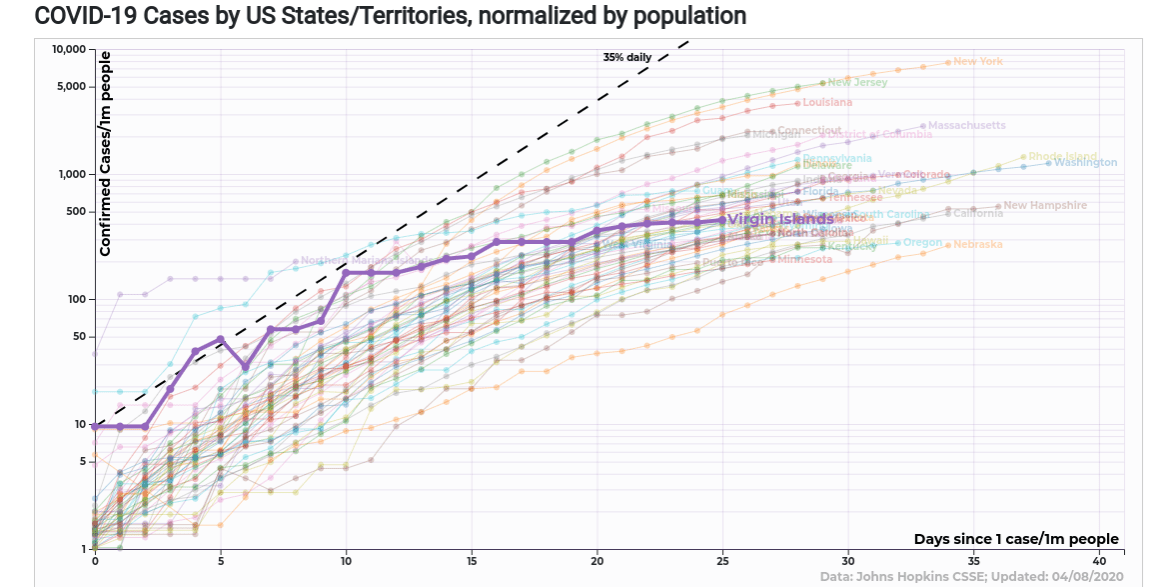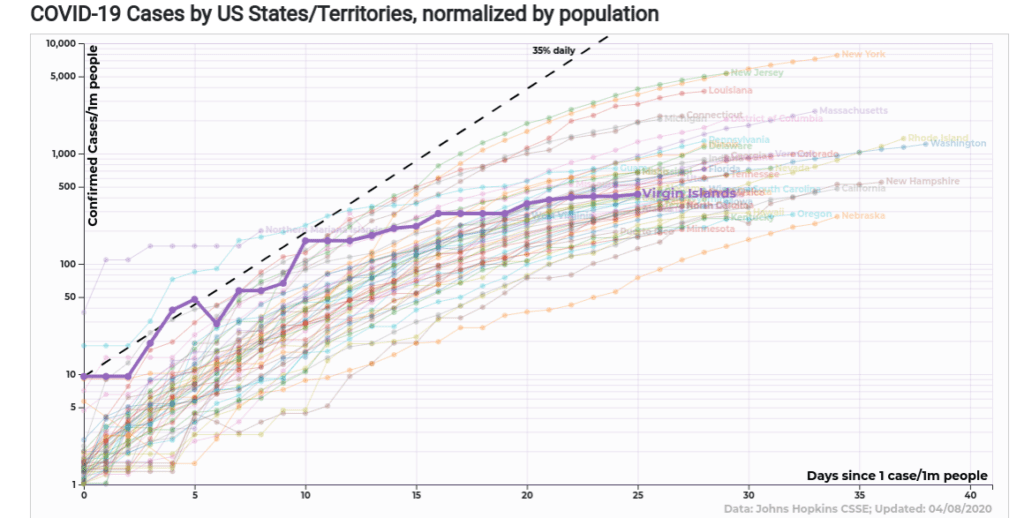 Note: All data and graphs were current as of 11:44 a.m. on April 8.
The U.S. Virgin Islands has 49 confirmed cases of COVID-19, and it took 11 days from the time the territory reached its 20th case to get there.
This number puts the Virgin Islands on the lower end of confirmed cases globally, but in terms of cases by population size the Virgin Islands is in the middle of a graph that compares states and territories (see above).
The Virgin Islands would have 429 cases if its population was 1,000,000.
Many residents may be wondering: How does that compare to other places around the world?
Our Neighbor: Puerto Rico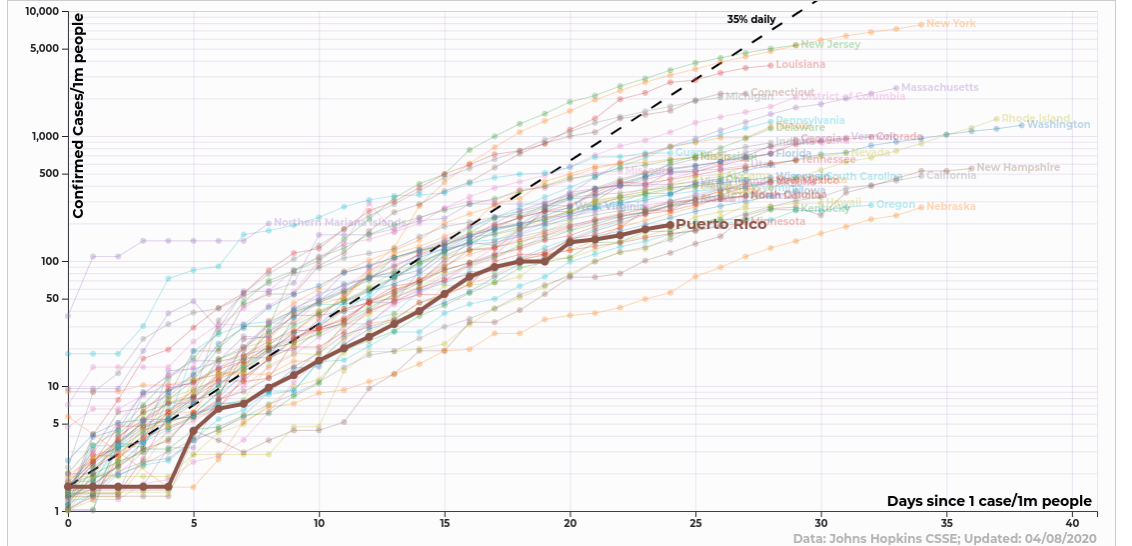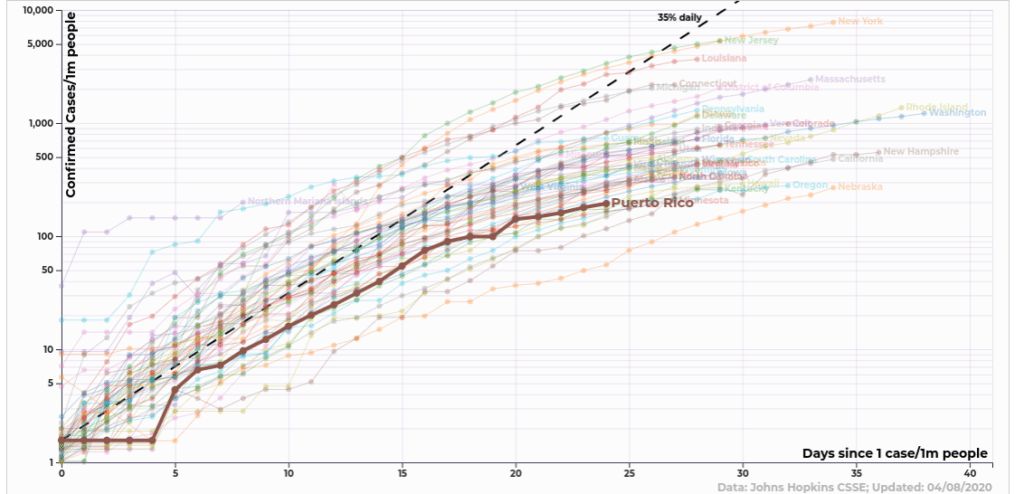 18 days after reaching their 20th confirmed case of COVID-19, Puerto Rico now has 620 confirmed cases.
24 days since their first case per 1,000,000 people, Puerto Rico now has 194 cases per 1,000,000 people.
While Puerto Rico has significantly more cases than the USVI, the USVI has 2.2 more cases per every 1,000,000 people.
On March 15, Puerto Rico introduced what the New York Times called "some of the most widespread restrictions yet seen in the United States," closing most businesses and setting a curfew with a threat of a fine as high as $5,000 or up to six months prison time.
On March 27, the Puerto Rican government increased those restrictions by limiting who could go out when, based on the last digit of license plate numbers.
A Country That Has Done Well: Taiwan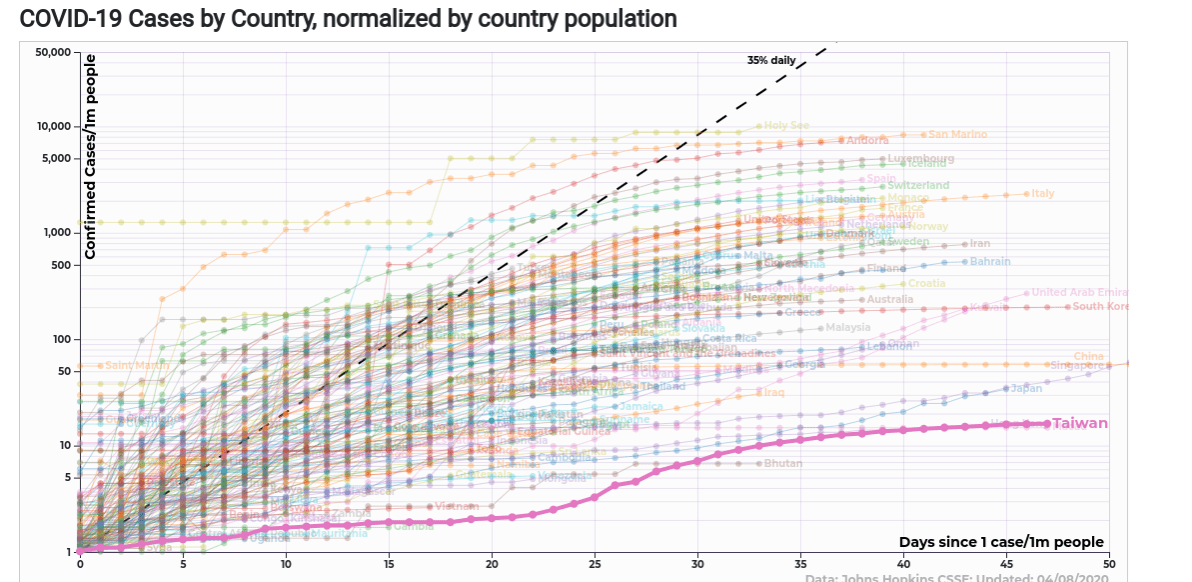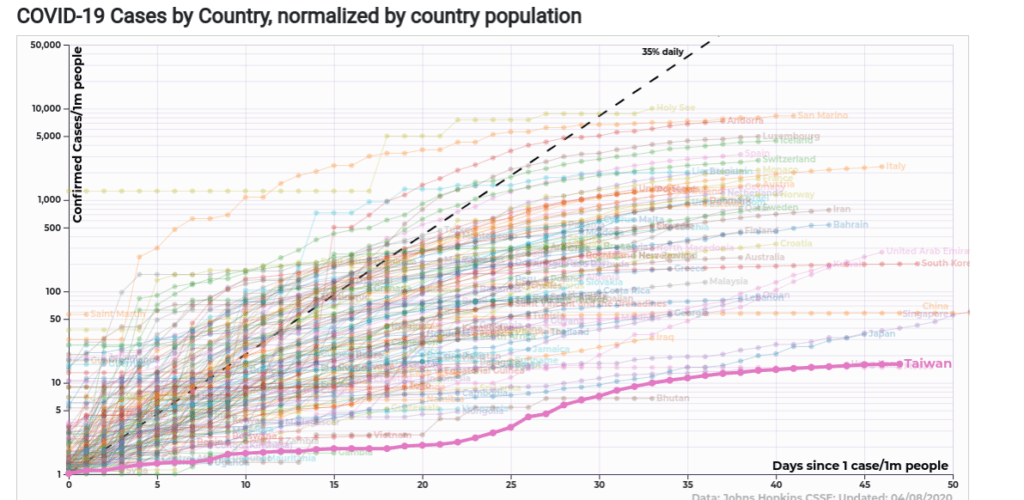 Taiwan is further along towards recovery than some places due to earlier exposure to COVID-19, and the island nation is receiving praise for being able to flatten the curve.
47 days after reaching 1 case per 1,000,0000 people, Taiwan currently sits at 16.1 cases per 1,000,000 people with 379 total confirmed cases.
The Taiwan government has been proactive and has implemented at least 124 action items in the past five weeks according to CNN.
Taiwan swiftly began to impose travel regulations and screening procedures.
Some notable measures include a Dec. 31 decision to start screening passengers from Wuhan, a ban on all Chinese nationals on Feb. 6 and fines of up to $10,000 USD for people that violate home isolation regulations beginning on Feb 12.
A Country that Did Poorly: Spain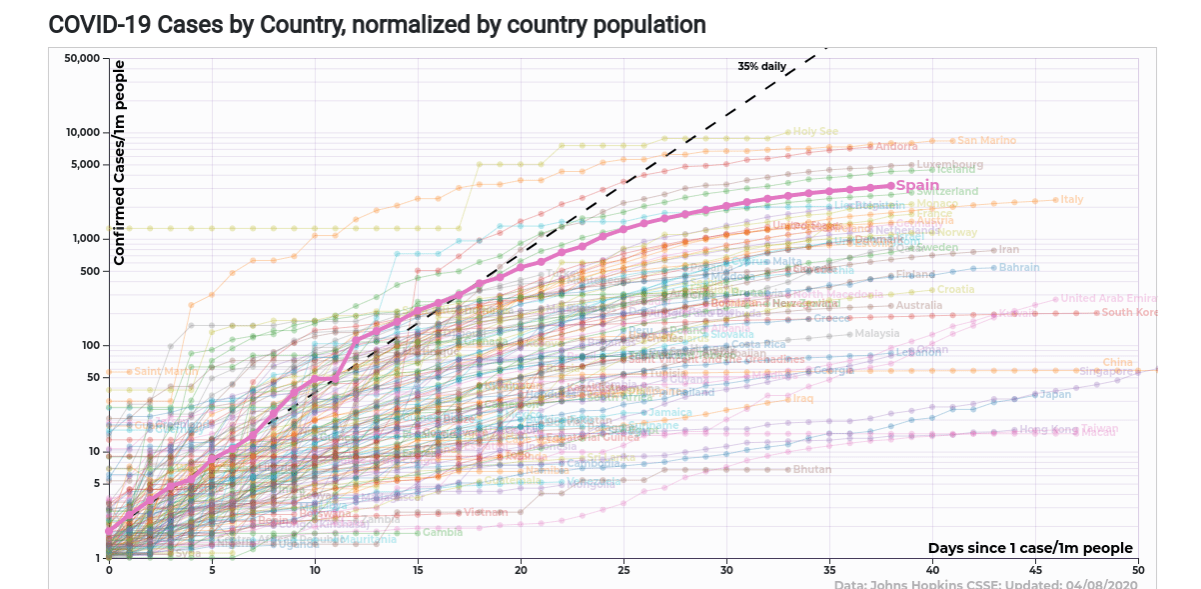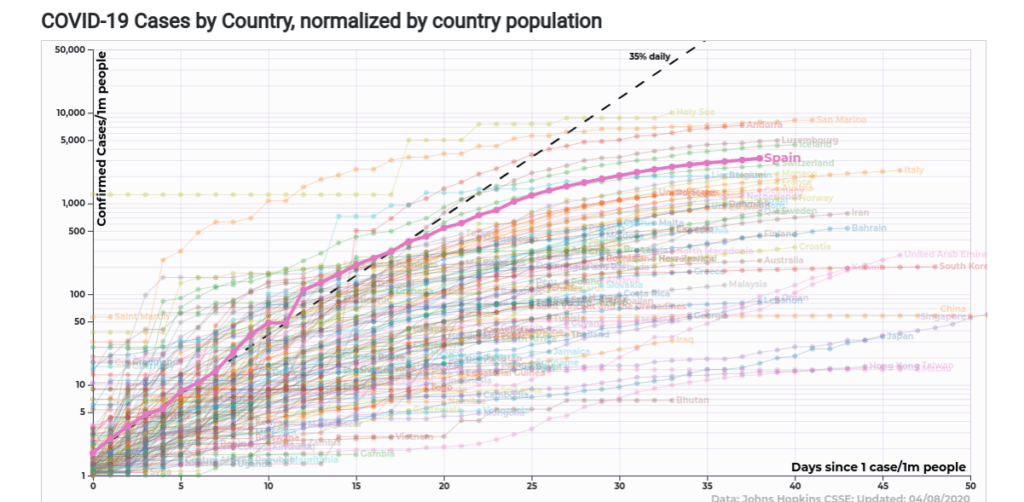 Spain is a nation that is on the upper end of cases per 1,000,000 with 3,146 cases per 1,000,000 and 148,220 total cases just 37 days after reaching their first 100 cases.
A delayed response is upsetting to Angela Hernandez Puente, a top official at a health labor union in Madrid. "What makes me most angry is that we had a month and a half to get ready after our first case, and we had weeks to prepare after watching what's happened in Italy," she told Vox.com.
On March 8, a day after reaching 500 confirmed cases, Spain still had no restrictions on public gatherings and the government allowed a march on International Women's Day with thousands of participants not following social distance standards.
The Spanish professional soccer league, La Liga, allowed fans to attend soccer matches until March 10 and the league did not suspend play until March 23.
How do Individual and Collective Actions Affect the Spread?

According to the Independent, patient zero in Valencia was a soccer reporter who traveled to cover a Champions League soccer match between Valencia and Atalanta (Italy) on Feb 19.
The match is now being referred to as a "biological bomb" in multiple news publications.
Giorgio Gori, mayor of Bergamo, the hometown of the soccer club Atalanta, told the New York Post, "If it's true what they're saying that the virus was already circulating in Europe in January, then it's very probable that 40,000 Bergamaschi in the stands of San Siro, all together, exchanged the virus between them. As is possible that so many Bergamaschi that night got together in houses, bars to watch the match and did the same."
Atalanta's home stadium did not meet the Champions League requirements so the hometown fans had to attend the match in Milan.
The team set their home record for attendance that night with the official attendance figure at 45,792 people.
The region's first cases started popping up less than a week after the match and Bergamo is the most infected province in Italy, accounting for 9,712 cases and 2,245 deaths according to an article published on April 6 in the Guardian.