After the hurricanes in 2017, solar installations, such as the one at the federal building on Route 75 (Northside Road) leaving Christiansted, were completely destroyed, while the one built for the V.I. Water and Power Authority in Spanish Town (also called Matruchal) on St. Croix was only slightly disturbed.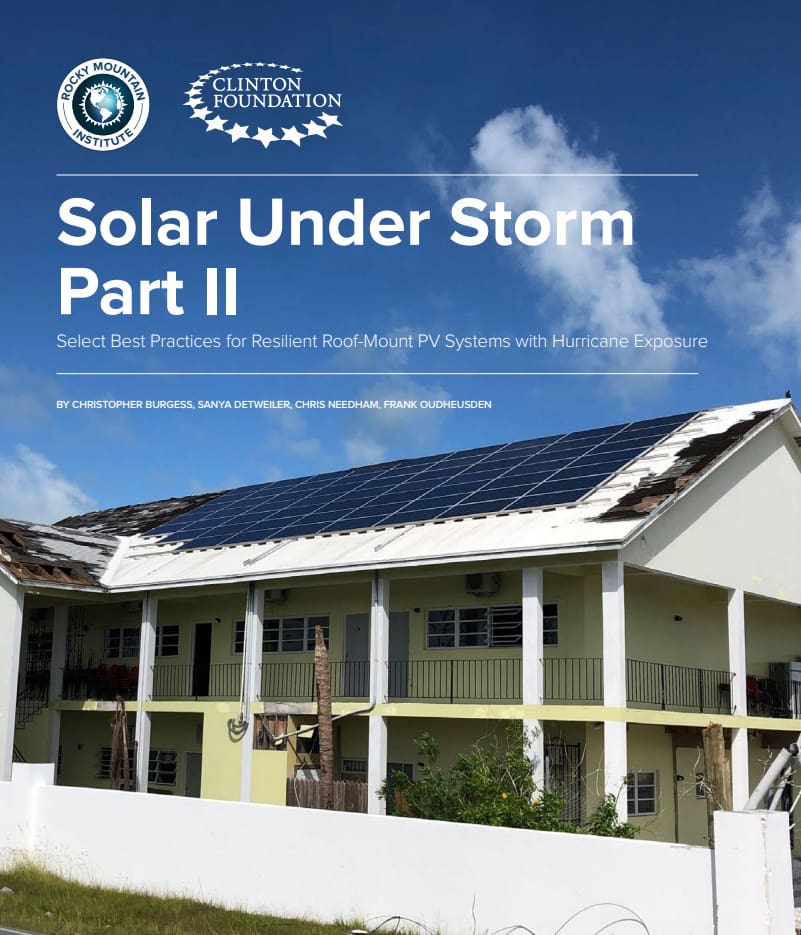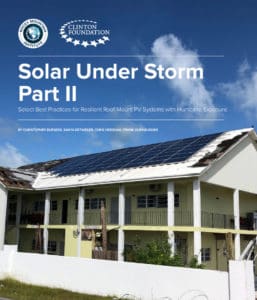 Rooftop installations on St. Thomas and St. John were completely blown away and others on those islands were able to produce power again just a couple days after the storm.
Was it happenstance?
Researchers from the Rocky Mountain Institute and Clinton Foundation didn't think so and they have collected data in two reports to show what works and what doesn't.
They shared data from the second report with V.I. Energy Office Director Kyle Fleming in a workshop on Puerto Rico last week.
This report concerned how certain roof-mounted solar installations in the Caribbean kept the power on during recent hurricane seasons. The researchers previously released a report about ground-mounted solar systems.
Fleming told the Source Friday the report was very valuable to officials in the Virgin Islands. He said it gave criteria to the government which it could use when requesting solar project proposals. He specifically mentioned a solar project to establish a microgrid at St. Croix Education Complex for which the territory has a grant and could be completed before the end of the year. The project would not only supplement the everyday power use at the school as a grid-tied system, but it would also operate as emergency power for the shelter there after a storm.
Christopher Burgess, Rocky Mountain Institute's project director for the Islands Energy Program, on Saturday told the Source that researchers worked closely with Kevin Schnell, owner of Caribbean Solar Company on St. John. Burgess said that Schnell's projects had "notable survival rates." In contrast he noted the Water and Power Authority's solar project in Donoe on St. Thomas was destroyed. He said that project was "poorly designed and poorly installed." He said bolts were not tightened down and, in some cases, even missing.
Burgess also suggested that the best practices mentioned in the report could also be incorporated in the territories building codes. He said many Caribbean countries have already done that.
Fleming said there had been a lull in solar projects since the hurricanes, but now he sees an uptick in the projects. The Energy Office is offering a 40 percent rebate (with a cap of $5,000 per customer) for portable power stations with solar panels and energy efficient appliances. A rebate for electric cars has also been added.
Burgess said the first report, which covered ground-mounted solar, was the international institute's most downloaded report and provided the impetus for doing the second report covering roof-mounted installations.
The second report contains basic tips such as:
– If top-down clamps are required, use clamps that hold modules individually or independently.
– Specify bolt hardware that is vibration-resistant and appropriate for the environment and workforce.
– Do not use self-tapping screws for structural connections.
The report also recognized opportunities for collaboration to improve the final product. These collaboration recommendations were between installers concerning maintenance and with racking suppliers to carry connection tests and with solar module suppliers to ensure local availability of good product.
The new report is a guide for both technical and non-technical audiences, with the goal of creating more informed solar professionals, regulators, government officials, utilities and customers.
Sanya Detweiler, associate director of the Clinton Climate Initiative, said in a news release last week, "Our work across the Caribbean is to support island governments and vulnerable communities as they transition from fossil fuels to clean, renewable energy sources. In light of more intense and frequent storms, the knowledge and lessons captured in this report help to ensure that solar energy can be installed – and stay in place – even following extreme weather events."
The Solar Under Storm II report can be downloaded here.