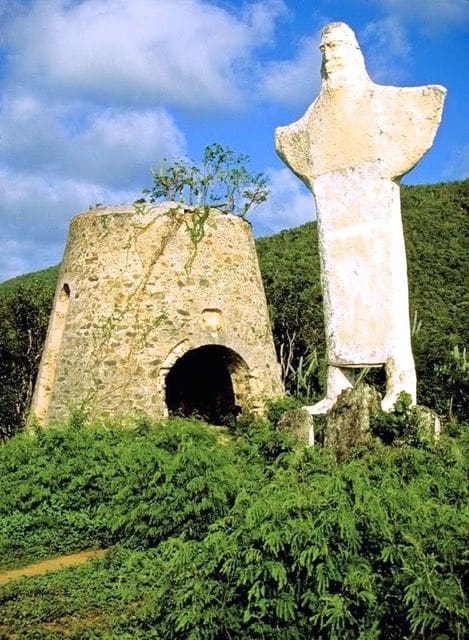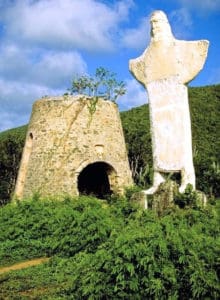 In a world of noise and conflict there are places that provide escape from the static and constant distractions of modern life. Peace Hill, St. John is one of those places.
Once part of the dark history of slavery on the tiny island, somehow the knoll above Denis Bay, once a sugar plantation, attracted a new kind of energy, perhaps beginning with its dedication in the mid 1950s to the people of St. John as a place of meditation by its former owner, Col. Julius Wadsworth. A plaque bearing the words."Dedicated to the Virgin Islands National Park … to inner and outer Peace " still marks the spot where once stood "Christ of the Caribbean." also a legacy of Wadsworth erected in 1953.
According to St. John resident and former National Park ranger Rafe Boulon, Wadsworth's "hope and dream at the time, was to gather all the leaders of the world and establish world-wide peace."
Though the huge white sculpture was toppled by Hurricane Marilyn in 1995, the energy of its intention remains. In that spirit over the years, people have been drawn to this place of sanctuary.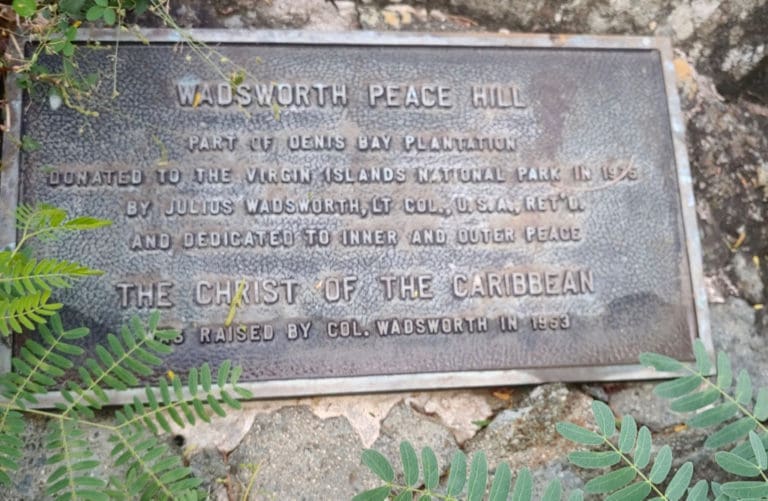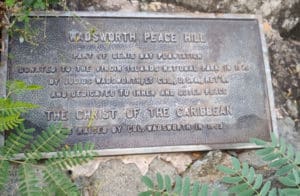 The first major gathering, in 1994, was to hear yogi and "Be Here Now" author, Ram Dass, who died in December, offer his message of spiritual transformation through yoga and meditation.
Now, 25 years later the grass-covered hill will once again serve as a place of peace beginning at 5:45 p.m. Sunday, Jan. 19, when visitors and residents are invited to gather for an hour of music, meditation and spiritual messages.
Sponsored by Unity of St. John, the intention of the eight gatherings to be held the first Sunday of the month, except for the first one, is to "enhance personal peace in a chaotic world, create peace in our relationships, communities, and world," according to organizer and licensed Unity leader and spiritual teacher Allison Smith.
Unity Church is a New Thought spiritual movement that has no dogma. Five guiding principles are:
– God is good. God is absolute good and everywhere present.
– People are good.
– Thoughts create experiences.
– Prayer is connection.
– Action is needed.
This is not Smith's first journey up the 500-foot trail that leads to the place she considers sacred. She has been instrumental for years in leading gatherings there and elsewhere on St. John and St. Thomas – all with one purpose, to teach and support spiritual growth, compassion and to foster a commitment to a nonviolent way of being.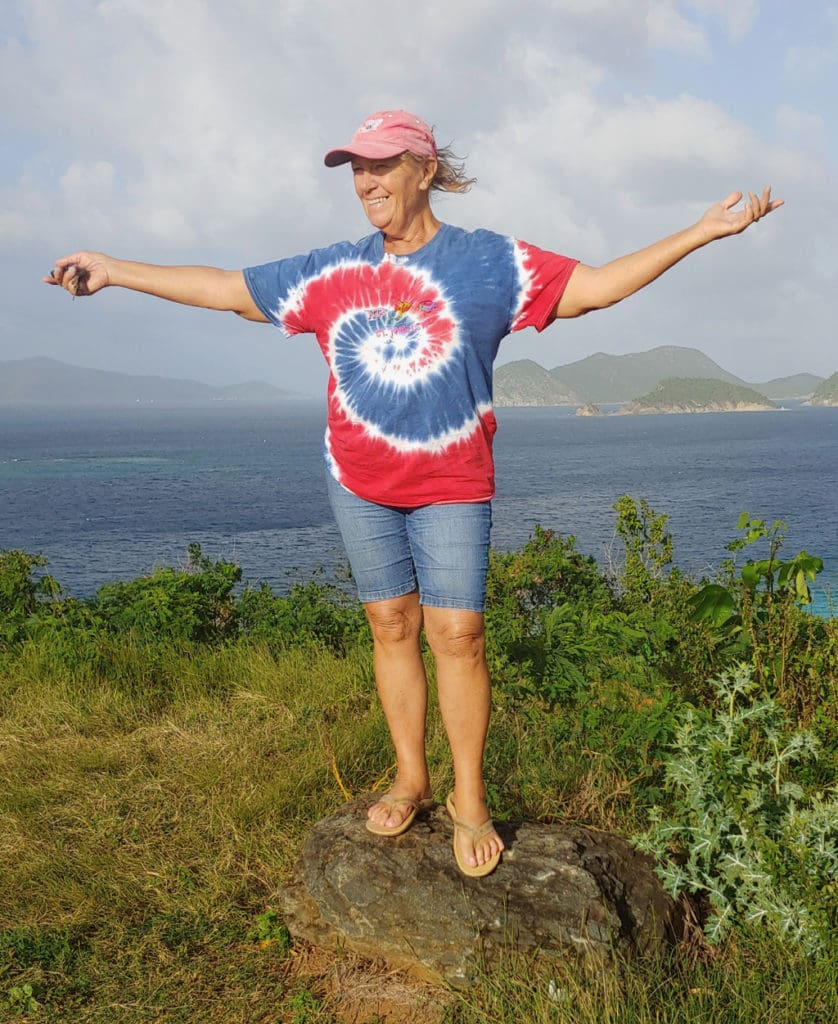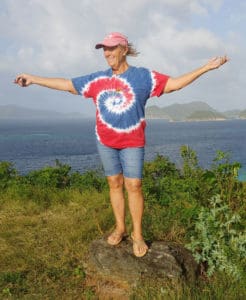 With that in mind, she has aligned the beginning of the eight-month journey to the M.K. Gandhi Institute 64-day Season of Nonviolence holding the first gathering on the eve of the national celebration of Martin Luther King Jr.'s birthday.
Launched at the United Nations in 1998, the Season of Nonviolence marks the 64 calendar days between the assassination of Mohandas K. Gandhi on Jan. 30 and that of the King, on April 4.
Gandhi, who became a world-wide beacon for peace when he led the movement that brought about India's independence from British rule through nonviolent means, was killed on Jan. 30, 1948. King, a student of Gandhi, who led his own nonviolent protests to obtain civil rights for black Americans, was assassinated 20 years later on April 4, 1968.
Smith said though the dates were not the same and her efforts extend beyond the 64 days, her intentions are aligned with the 21-year-old movement. She also has discovered in her commitment to using Peace Hill as the setting for the free program of teachings, music and meditation, her connection to Wadsworth in their mutual dream of peace by attracting world leaders to this sacred spot.
To that end, Smith intends to invite Arun Gandhi, Mohandas Gandhi's grandson, and other 21st century teachers, mystics, musicians and authors to Peace Hill to share their wisdom and love.
Meanwhile, Smith is well qualified to address the components of spiritual teachings. As the founder of People Moving Forward Foundation, which has morphed into Unity of St. John , and teacher of The Course in Miracles, as well as former victim advocate and counselor, Smith's life has revolved around enlightenment, guiding hundreds of people to a higher plane over the last 30 years on St. John.
In the spring following the catastrophic storms of 2017, she pulled together a course she called "Peace in the Midst of all Matters," based on Unity teachings to address the trauma and tumult that followed the extreme weather events.
Her latest effort is broader and more ambitious.
"Peace Hill has magnetism," that she believes will be a light in the darkness of a world bathed in violence. "It will attract people from all over the world," she says. "I am holding space for that."
A complimentary shuttle to Peace Hill departs at 5:30 p.m. from the St. John ferry dock. No parking will be permitted at Peace Hill due to Park Service restrictions. Attendees from St. Thomas are advised to take the 5 p.m. ferry from Red Hook and plan to return on the 7 p.m. boat. St. Johnians can park at Hawksnest Beach and take the shuttle or catch the 5:30 p.m. shuttle from the Cruz Bay ferry dock.