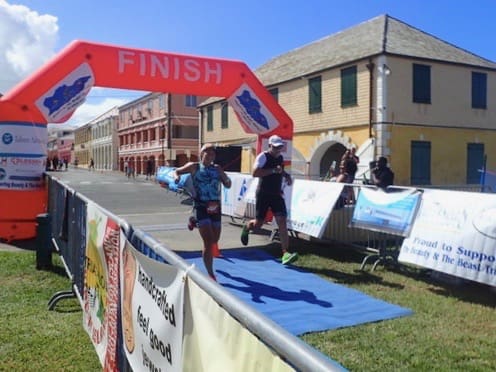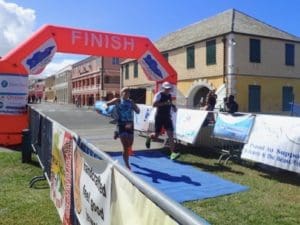 Sunday's 31st running of the Beauty and the Beast Triathlon saw cooler weather, calmer seas and better roads than some previous years, especially when the event – America's Paradise and Ironman 70.3 – was held in May, competitors said.
This year there were three races: the long-distance course, a sprint and a sprint aquathon. Relays were allowed in the long-distance course and sprint races. The long-distance course was designated as the Caribbean Long-Distance Triathlon Championship.
According to race co-director Theresa Harper, 158 athletes registered and 85 of them were from St. Croix or St. Thomas. Notables included Esther Ellis, who was the first person from the territory to cross the finish line. Catherine Seguin was the second.
"There was a nice breeze and good cloud cover. It was good," Ellis said, carrying her son across the finish line.
Seguin actually crossed the finish line with Troy Holloway, the first-place winner in his age category.
Another Virgin Islander, Todd Newman from St. Croix, has competed in more triathlons on St. Croix than anyone else – 27 of 31.
Other notables were professional triathletes Mirinda Carfrae and Tim O'Donnell, who met on St. Croix in 2007 and later married. They returned this year with their baby and parents.
"The race was good. I'm here to have fun," Carfrae said.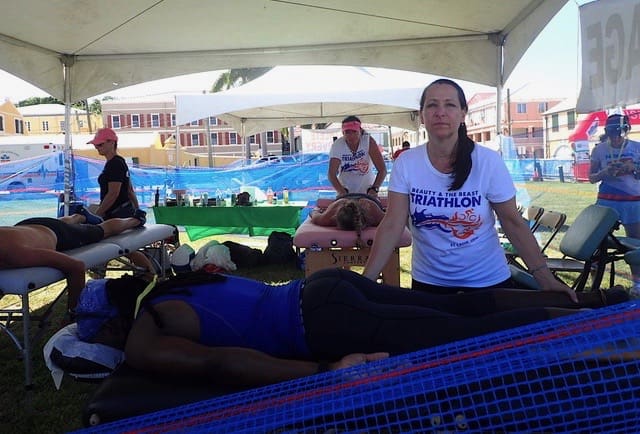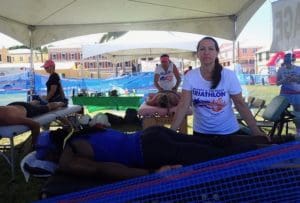 Professionals Angela Naeth, who is the female course record holder, and Wendy Ingraham participated this year in the relays with local athletes. Ingraham has taken part in the St. Croix event at least 20 times.
Jeff Fejfar and his wife Wendy, from Florida, won a raffle trip to St. Croix, according to Harper. He thanked his sponsors by taking first place in the long course and she finished fourth in the sprint.
Longtime St. Croix resident Smokey Odom has participated in the triathlon since 1988. He was impressed that Carfrae and O'Donnell visited his son's school and talked to students. This year, Odom swam 800 meters around Christiansted Harbor and ran four miles.
"The seas were calm and the course was great. I love being part of it," he said.
Another pair of married athletes Mike and Bridget Klein also participated this year. Mike ran and swam this year and Bridget is the top female long-distance runner who won the Optim Orthopedic Skidaway Island Half Marathon near Savanah, Georgia recently in a field of 419 runners.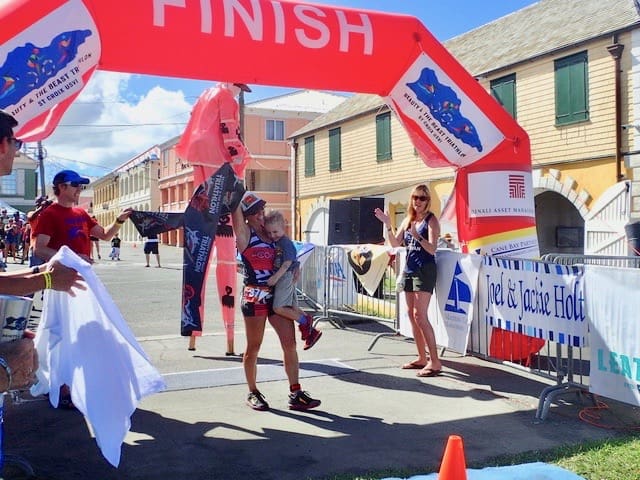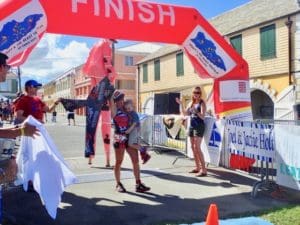 "The organization [of the event] was good. We'll look for more people next year," Mike Klein said.
Gregory Camacho returned recently to St. Croix as the National Park superintendent and said he remembers the race from when he was a boy. He is glad to see the V.I. Tourism Department and other sponsors help the race continue as part of the local culture. Partnerships are the only way to afford it, he said.
"I'm pushing for more events in the park. Next year we'll double the race," he said.
V.I. TRI organizes the race and is a nonprofit organization. At Sunday night's awards dinner, Harper said they presented proceeds of the race, $10,000 to each of three charities – the Lighthouse Mission, Special Olympics and Guardians of Culture Moko Jumbies. They also auctioned last and this years' original art for the posters and donated the proceeds to the St. Croix Animal Welfare Center. Harper said raffle prizes were donated by the professionals.
The V.I. TRI race committee met on Tuesday and set the date for next year's triathlon – Nov. 22, 2020. Harper said they will shorten the long-distance race to attract more triathletes.
2019 Winners
Long Course: Top five of 28
Jeff Fejfar
Joseph Caffrey
Phillip McCatty
Westin Galloway
Esther Ellis
Long Course Relay
Team M&S
Team the Wingnuts
Team Blood, Sweat and Beers
Team Pay It Forward
Sprint winners: First four of 39
Dedrick Luikens
Matthew Erchull
Adrian Villalba
Wendy Fejfar
Sprint Relay: Three of four teams
Team TD Swanson
Team Go Panthers
Team VING Team STEM Sisters
Sprint Aquathon: Top four of 14
Bryan Girouard
Sarah Angeli
Savannah Logan
Colleen Cooke