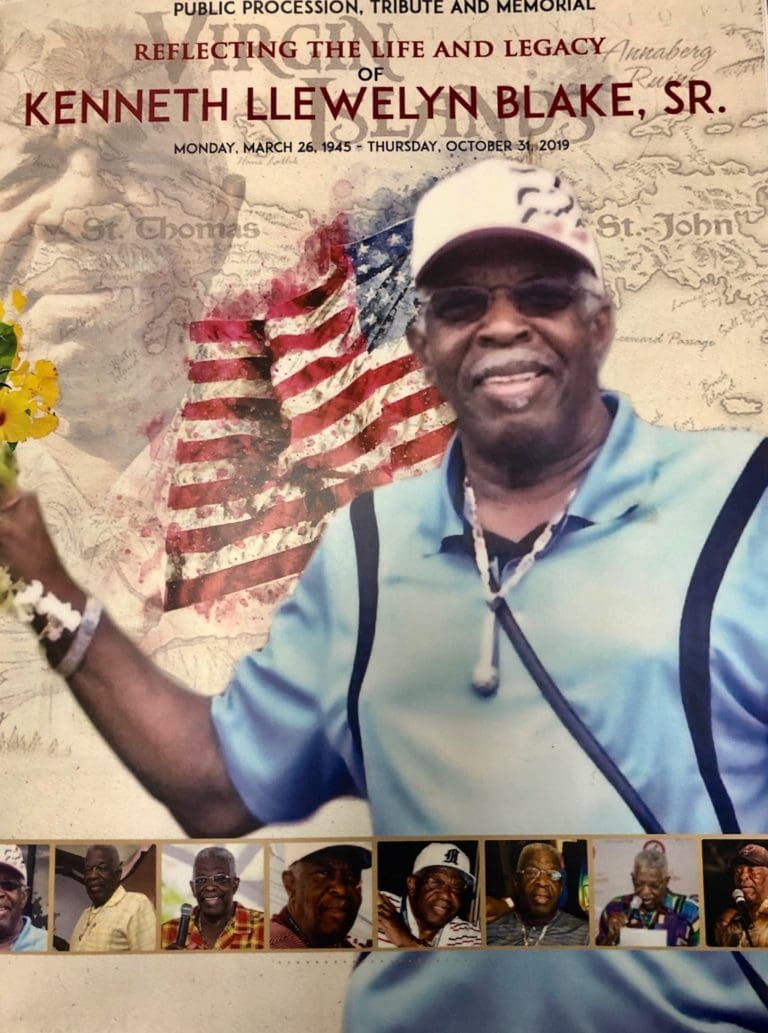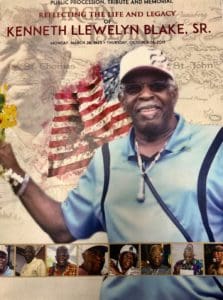 Saturday was a day for people on St. Thomas to say goodbye to Kenneth Blake, the late chairman of the Virgin Islands Carnival Committee. It was also a day for Blake – known as Lord Blakie – to say goodbye.
Blake, 73, passed away in Florida on Nov. 1 at the end of a long illness that his brother, Eldridge, said was related to his military service in Vietnam. Eldridge was grand marshal for the mini Carnival parade that made its way up Norre Gade and around Roosevelt Park to Lionel Roberts Stadium.
For 33 years, Blake oversaw the coordination of people and things that brought the annual cultural extravaganza to life. But, as his brother told the crowd, his first devotion was to calypso music. Their father loved to sing, Eldridge said, so by age 12, Blake was in tune around the house.
Mama, look a boo-boo they shout
Their mother tell them shut up your mout'
That is your daddy, oh, no
My daddy can't be ugly so
A litany of tributes filled the booklet given to guests at the service in the stadium. Among them was one from Charles White Jr., who also remembered the early days of song around the Paul M. Pearson Garden Housing Community.
"R.I.P., my housing comrade. Remember sitting on the bench in Pearson Gardens listening to you throwing out those lyrics," White said.
Housing comrades later turned to comrades at arms, as Eldridge recalled how Blakie, in the Army in Vietnam, boarded a plane at the end of this tour, only to run into White's brother, Celestino, on the tarmac.
"Hey, Blakie," the story went, "how about that? A couple of housing boys out here in the jungle in Vietnam."
"Yes," Blakie said, "but you're on your way in and I'm on my way out," to Celestino's dismay.
On the back cover of his memorial book, the man himself told the tale:
I did all I can I must say,
I even fought for the USA
Went and won Calypso King
And even did the police thing
He retired from the V.I. Police Department 42 years later, in 2009. In his off hours, he served with the Police Athletic League, Humane Society and, revitalizing his love of calypso on stage as Lord Blakie. His discography proudly displayed on page two: Cardproof, This Lady, Broke Your Comb, One More Rum, Esher, Hugo Bad, The Cheese Stands Alone, Pull It Out Milo, Carnival Dilemma and United We Stand. His booklet also noted he won, Calypso King of the World in 1979.
But as with many things in Blakie's life, the title did not come without controversy:
In 1979, I was Calypso King.
It was one of my greatest thing,
But, you won't believe is that very night
They tried to run me over, it gave me a fright.
Nonetheless, I let it go
Because it made no sense to put on a show
My little son, Kenny, was a witness to that
I forgive immediately and it left an impact.
And from the stage in the middle of the stadium, Blakie's Carnival sidekick, Caswill Calendar recalled how the chairman gave it all up to devote himself to all things cultural.
"I'd like to say thanks, Blakie, for playing your part. Although a very talented entertainer, once Blakie became a member of the Carnival Committee, he suspended taking part in the Calypso competitions. He was steadfast in the desire to have the monetary prizes for the calypsonians increased and thereby increasing the interest in the art form," Calendar said.
Sen. Athniel Thomas also spoke in remembrance of Blake and the 29 years he spent working as a volunteer on the committee. He remembered the calls of spouses and family members, seeking those who were called to committee meetings lasting late into the night.
Thomas also recalled the criticism of some public figures of Blakie and Calendar, and their accusations of impropriety. Those words hurt, he said, and they hurt the volunteers as well because they were on hand to hear accusations that largely never panned out.
But Blake and Calendar sparred over the demand for financial disclosure, sometimes musically. There's a story about how Blake spotted former Gov. Charles Turnbull in the audience during a session of extemporaneous kaiso. The chairman launched into a citation of the Virgin Islands Code.
The governor left his seat as the performance on stage got livelier. When Blake returned to center stage, he found Turnbull standing behind him, smiling. The two shook hands and the governor left.
As the years rolled on, and his health began to falter, Blake kept up his devotion to the committee, his two radio shows and those who were dearest to him:
You went on a journey with me you see
From calypsonian to community
I didn't tell you that I was a family man
I have 3 children and 22 grand
Kenny, Krista and Kendal will be
The ones who will carry on my legacy
They know to extempo and sing like me
They don't miss a beat or sing off key
"The Calypsonian," "The Community Servant," "The Family Man" and "The Christian Man," were penned by Blake as he wrapped up his time on earth. At the end of the Saturday memorial, calypsonians gathered to pay their tributes in song.
Many performed throughout the years. Some won the Calypso Monarch crown. Several others tried.
One who won, but didn't perform on Saturday, left a tribute instead. Wilbert Brooks, the Mighty Waggy – one who wore the crown – pointed to Blake's role in seeing the art form through to the end.
"He played a big part in my calypso career and I'll be forever grateful," Waggy said.