People who take advantage of seniors unable to care for themselves are the target of a bill approved and moved forward Monday by the Senate Committee on Health, Hospitals and Human Services.
Bill 33-0077 would require people found guilty of such a crime to make restitution. They would be guilty of a felony if the value is greater than $500, or a misdemeanor if it is less than $500. A person exploiting a senior could also face a civil penalty and be held liable for treble damages under the terms of the legislation.
The hearing was held in the Virgin Islands Cardiac Center on St. Croix. The bill was moved to the Rules and Judiciary Committee by a vote of five to one.
Sen. Allison DeGazon, one of the bill's proponents, said the bill is aimed at people in a position of trust or confidence and use that position to use the elderly person's assets for their own benefit.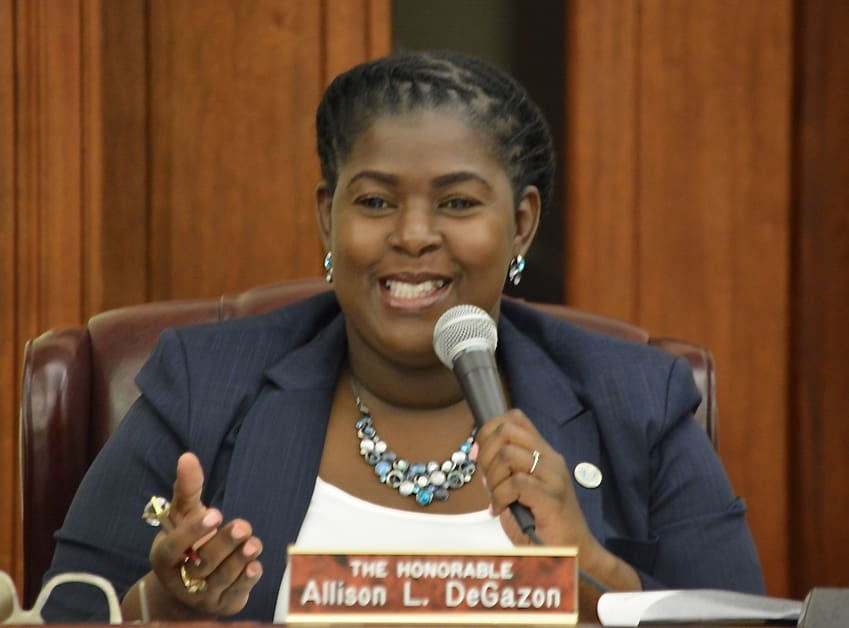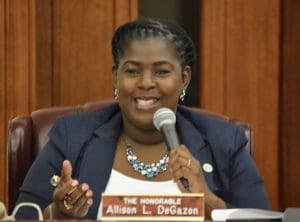 "This bill is to rectify situations that are happening at Juan Luis where we have family members that are left behind and it's left up to the hospital to take care of them without the funding. This bill is for those elderly that are in elderly homes whose families have turned their backs on them as their caretakers."
Virgin Islands of Justice Attorney General Denise George said when family members abandon their elderly relatives at hospitals, refuse to pay bills and are still collecting the Social Security received for the seniors, "That is a form of neglect and exploitation."
This type of financial exploitation of the elderly and dependent adults George said, "has become a growing problem over the years and has been labeled by some as the crime of the 21st century."
AARP Virgin Islands State Volunteer President Corrine Plaskett said, "Financial abuse of seniors can cause injuries far beyond the pocketbook. This abuse frequently affects seniors' physical and emotional health. The state, in many instances, finds itself trying to pick up the pieces. Yet, efforts to prevent this abuse through the passage of stricter laws is often cost neutral to the states. The enactment of stronger safeguards against the abuse of elders is a win, win, win situation for states, older adults and their families."
Though some associate the crime with a traditional Ponzi scheme, which is the act of conducting a fraudulent investing scam which promises high return rates at low risk, George said 51 percent of the crimes are committed by strangers through phone and home repair scams, burglary and robbery. However, 34 percent of crimes committed against the elderly and dependent adults are committed by those closest to the senior – their family, friends, loved ones and caregivers.
Under the bill's definition, "A person commits financial exploitation of an elderly person or dependent adult when he or she stands in a position of trust or confidence with the elderly person or dependent adult and he or she knowingly or by deception or intimidation obtains control over the property of an elderly person or dependent adult or illegally uses the assets of an elderly person or dependent adult."
Plaskett agreed with George that in many cases the elderly are vulnerable to "affinity-based marketing schemes, in which an abuser uses a trusted relationship to take advantage of a person financially."
She explained how victims of these scams are usually unaware they are being scammed and often do not report the scam or seek guidance until after learning that what they had been sold is not in fact as advertised.
Plaskett also presented AARP research that says, "With age, adults experience substantial diminution in cognitive function that affects financial decision making. Evidence indicates that, after peaking in middle age, the ability to make effective financial decisions declines."
She said the research shows older consumers are likely to be unaware of their declining financial decision making capacity. That can occur without any sign of dementia or Alzheimer's, she said.
Sens. Oakland Benta, Athneil Thomas, Kurt Vialet, Donna Frett-Gregory, Marvin Blyden and Kenneth Gittens were all present for the vote. Sen. Janelle Sarauw was absent from the vote.
"It appears that the main objectives behind this legislation should be to provide focused attention and protection to those in our community who are most vulnerable to becoming victims of the financial crimes already existing in our laws, and to send a strong message that such victimization will not be tolerated," George said.