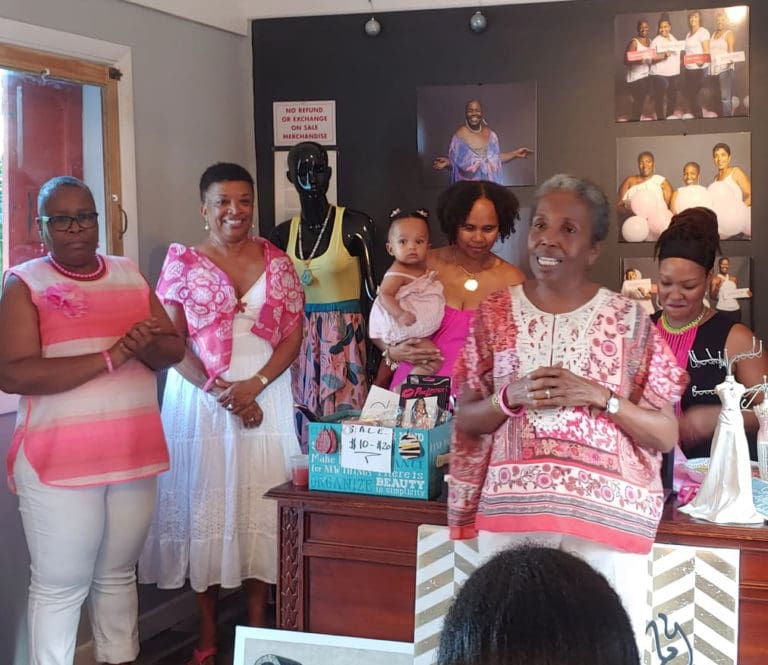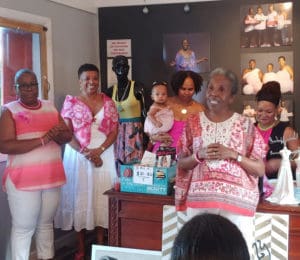 My Girlfriend's Closet and The Yvonne A. Galiber Foundation co-hosted a breast cancer survivor exhibit and celebration of eight years of "Girlfriendism," Saturday afternoon at the art and fashion boutique in downtown Christiansted.
Girlfriends in attendance, as patrons are called, were treated to a photo display and video testimonials of jubilant breast cancer survivors, as part of the YAG Foundation's, "Behold the Bold" campaign. The pictorial is the work of Dionysius Burton of Dioburto Photography. Some of the photos depict survivors in their uncovered and unguarded glory. Michelle Gibbs, a member of the foundation's board, director of the foundation, breast cancer survivor and featured model, spoke about her experience with the life-threatening disease.
"As a survivor and as a woman, I was proud to participate in the photo exhibit. My scars are like a badge of honor to me."
Local entrepreneur Khnuma Simmonds opened My Girlfriend's Closet, a boutique that sells designer apparel, jewelry and accessories for women, as part of a broader mission to empower women.
"Opening My Girlfriend's Closet has enabled me to support and empower women through fashion, faith and friendship. All the merchandise is created and designed by women. We also host faith-based inspirational monthly gatherings called Wisdom Walk Talks, to support and inspire women. Some recent topics included, the 'Art of Forgiveness,' 'Sex, Science and Spirituality' and 'Fulfilling Your Purpose.'"
In addition to carrying upscale fashions, My Girlfriend's Closet is an art gallery, showcasing paintings by Simmonds' father and well-known local artist, El'Roy Simmonds. His work has been featured in art shows at the Caribbean Museum Center for the Arts, Art @ Top Hat and most recently at an Indigenous Futurism show in Orlando, Florida, in August. The boutique and art gallery, at 15 King Street, holds special meaning to Khnuma, as it was originally owned by her grandmother, Hilda England.
Girlfriendism, a phrase coined by Simmonds, also extends to her support of the YAG Foundation and breast cancer outreach.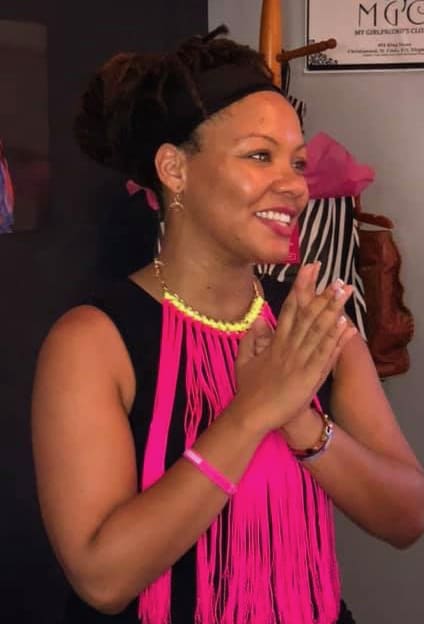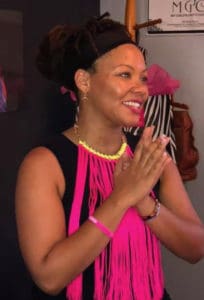 "Our partnership with the YAG Foundation is a natural progression that grew out of the shopping experience," Simmonds said. "The foundation's commitment to educating the community about breast cancer matches our commitment to provide a safe space for women to be empowered. We are delighted to promote the 'Behold the Bold' campaign."
The event included the debut of the YAG Collection of hand-crafted bracelets available in multicolor and rose gold, and engraved with inspirational messages such as, "God is within her, She will not fail," "Survivor," "Healing looks good on you" and "Behold the Bold." All purchases from the collection will benefit the foundation.
Founder president, and 14-year survivor of breast cancer and thyroid cancer, Yvonne Galiber, shared her thoughts about the foundation's beginnings and the partnership with My Girlfriend's Closet.
"It was not an easy thing to do when we first set out to educate the community about breast cancer, especially men. Quite often, the very people you're advocating for, don't realize the importance of your cause," Galiber said. "Cancer happens every day. We have our victories but it's not without sadness, you cheer for the survivors and mourn those you lose. We've made great progress over the years in raising breast cancer awareness and funding, and its especially rewarding to have organizations and businesses such as My Girlfriend's Closet, approach the foundation about partnering with us to build cancer awareness in the Virgin Islands."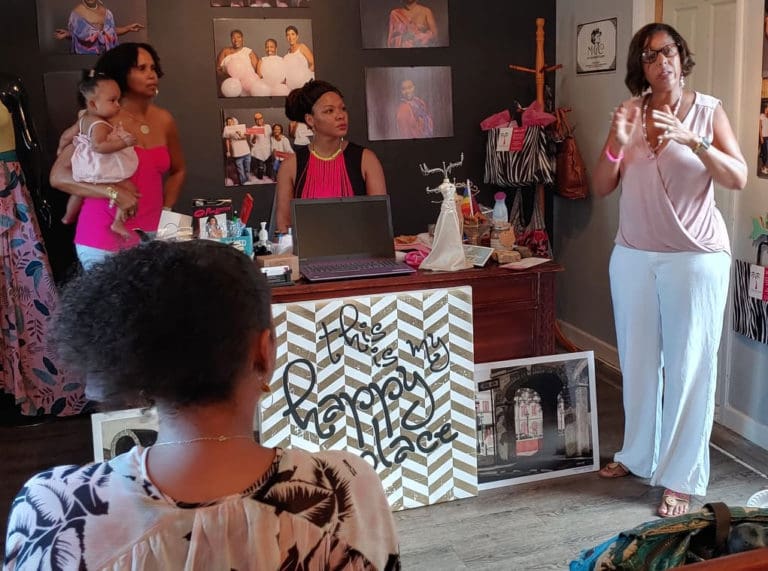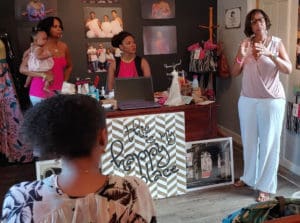 On Saturday, amid the lively atmosphere that included refreshments by A Better Day Cafe and a pink and white cake by In the Mix Cakery, women from various walks of life shared messages of hope and healing. Mary Osinski talked about her breast cancer diagnosis.
"I knew nothing about breast cancer until I was diagnosed. When I was going through my treatment, I found that it was important to remain calm and quiet so that I could exude positivity," Osinski said.
Petra Victor, six-year breast cancer survivor, was diagnosed at the age of 41.
"Music helped to distract me from my illness and was very therapeutic during my treatment," Victor said. "My mother, sister and an aunt were also diagnosed with breast cancer. Sadly, my Mom waited until her cancer had become very advanced. She succumbed to the disease very quickly. Her example motivated me and gave me the strength and determination to fight and to win my battle against cancer."
Victor is also the founder of Ribbons for A Cure, a nonprofit organization in the Virgin Islands, dedicated to promoting awareness and outreach about the various types of cancer.
Leslye Webb Keith, secretary and chairwoman of special events for the foundation and a seven-year cancer survivor, shared her story.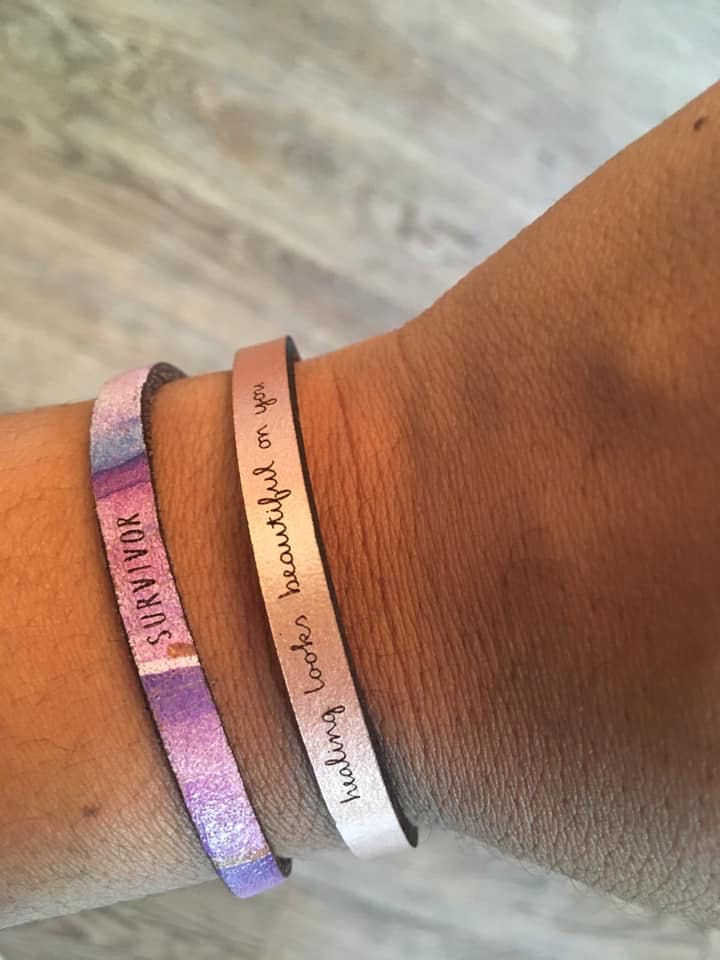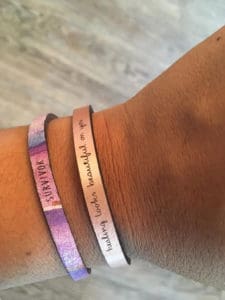 "I'm one of the lucky ones. After undergoing a procedure to remove a blockage in my breast, I was given a clean bill of health. Three days later, diagnostic tests revealed that I indeed had cancer. Within three days I was back in surgery to remove a cancerous growth from my breast. By some miracle, the surgeon had a cancellation and I slipped into that spot. Everything happened so quickly, I didn't have time for fear to take over," she said.
Both Keith, and Galiber stressed the importance of monthly self-examinations and annual mammograms.
"They can make all the difference," they both said.
Cassandra Dunn, vice president and communications director of the foundation, summed up the day's event.
"Our intention at the Yvonne A. Galiber Foundation is to nurture and support both women and men battling breast cancer in the Virgin Islands and we are grateful for this opportunity to build a partnership with My Girlfriend's Closet."
The next meeting of the Yvonne A. Galiber Foundation support group will be held at Bon Manger Restaurant in Sion Farm. Time, date and other information can be obtained by calling 340-332-9115 or sending an email to info@yagfoundation.org.
Store hours for My Girlfriend's Closet are noon to 5 p.m. Wednesday through Saturday. Those interested can also shop online at mgcstx.com.