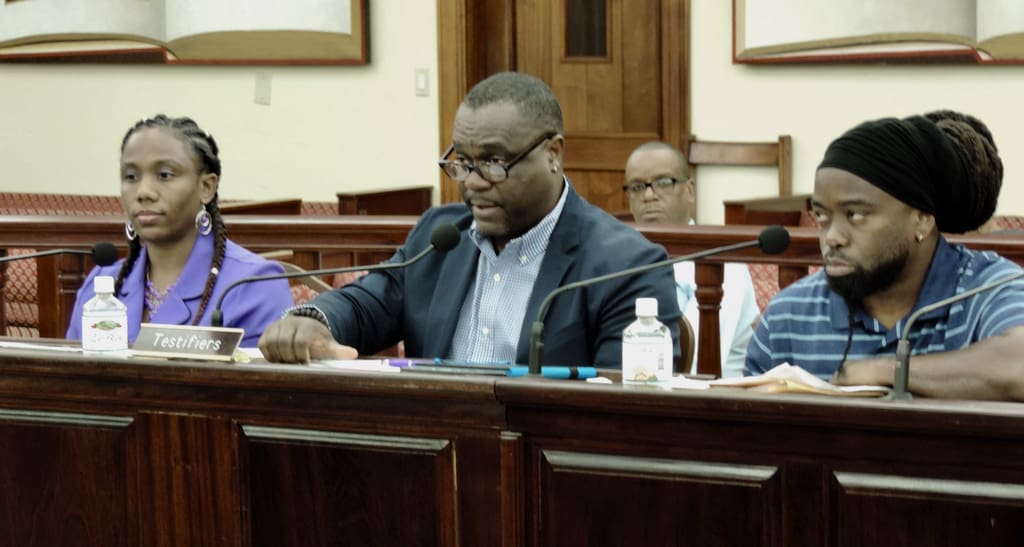 The Senate Finance Committee on Tuesday unanimously agreed to leases with three companies that want to renovate government owned properties in Sub Base.
The lease agreements moved forward to the Committee of the Whole.
Deputy Commissioner of the Property and Printing Division for the Department of Property and Procurement Vincent Richards said DPP owns all three properties. The department is required to sign off on all permits and licenses required for the properties, he said, adding that the potential lessees have provided the documentation to support the processing of their lease agreements.
– Raquel John-Baptiste, acting property manager of Commercial Property Management LLC, said the chance to develop the property is a motivation for the company.
CPP "developed a passion for property management when we realized the great potential that exists with converting abandoned, damaged, underutilized properties into thriving and attractive business communities, complexes and developments," she said.
The company would like to lease parcel 40 in Sub Base, which consists of a two-story building with 8,528 square feet of interior space on almost half an acre of land. The property has experienced neglect and sustained significant hurricane damage, John-Baptiste said.
Renovations will cost the company around $150,000 Richards noted.
"We are willing to completely utilize our own funds to restore this building to its potential to become an eco-friendly, environmentally efficient establishment. The goal is to eventually provide solar power as an option to tenants, to ensure the continuity of operations in the event of power loss from the grid," John-Baptiste said.
John-Baptiste said the location is within walking distance from the Crown Bay dock and next to the Nisky Center.
"We feel that we can create a landmark, attractive structure that brings modern innovations to a convenient, accessible location while maintaining a balanced, positive effect to the surrounding areas and community," she said.
The proposed lease agreement would be for 20 years at a cost of $1,700 a month and a reduced rent of $400 per month during the construction period, which will expire in 18 months or less Richards said.
– FiberNet, Inc. wants to lease plots 95 and 95A in Sub Base to establish a main office for the company, which has been doing business in the territory since 2010. FiberNet President Sherwin Rey was not present but had testimony read which said the lease would also "help my son, who is currently the vice president, a young Virgin Islander, secure a place in this market so that he will have something to pass on to his offspring. … This opportunity would pave the way for a young Virgin Islander such as himself to be able to secure a place in this thriving economy as well as to enable FiberNet, Inc. … to maintain its status in the community as a locally owned and operated business."
According to his testimony, Rey said the company intends to remove debris and abandoned cars from the lot, then erect a 5,000 square foot steel building.
"By erecting this building, we will be beautifying the area, thus adding value to the property," Rey's testimony said.
Once the lease term is up, the government will own the structure "free and clear, which would be of great value and that would be able to generate continued revenues for them," the written testimony said.
FiberNet's proposed building will consist of office spaces, conference room, storage area, and technician's workshop area, and the term of the agreement would be for 20 years Richards said. He added the monthly rent would be $1,500 but during the construction period the company would pay $500 a month.
– Jason Jackson, owner of Total Auto Package LLC, said he was looking to lease the "unimproved" land parcel 128A in Sub Base, a 19,160 square foot property, and would invest $250,000.
The land "needs heavy excavation of rocks, boulders, shrubs and other debris" before a garage and repair shop can be built, Jackson said.
Richards said DPP was pleased to lease the property to Total Auto Package, a sole member LLC, that is a young, locally owned and operated small business.
"The property has a partially graded and level surface on the hill in Sub Base, but requires substantial excavation and improvements," Richards said. "These improvements will significantly increase the value of the property and other immediate surrounding properties in the Sub Base area. This lease agreement will allow Total Auto Package to expand its current operations and services."
The size of the parcel is appropriate for this kind of operation Richard said and breaks a past trend of leasing smaller parcels, which were often at a lesser cost, and would end up with "their clients vehicles littering the roadsides in the Sub Base area, making it difficult to traverse at times."
The term of the lease agreement Richards said is for 20 years at $2,500 a month. However, Richards added, the auto company will pay reduced rent of $1,500 during the construction period of 24 months.
All three lease agreements were unanimously moved forward to the Committee of the Whole. Those present and voting were Sens. Marvin Blyden, Oakland Benta, Dwayne DeGraff, Janelle Sarauw and Kurt Vialet.
Sens. Allison DeGazon and Donna Frett-Gregory were absent.