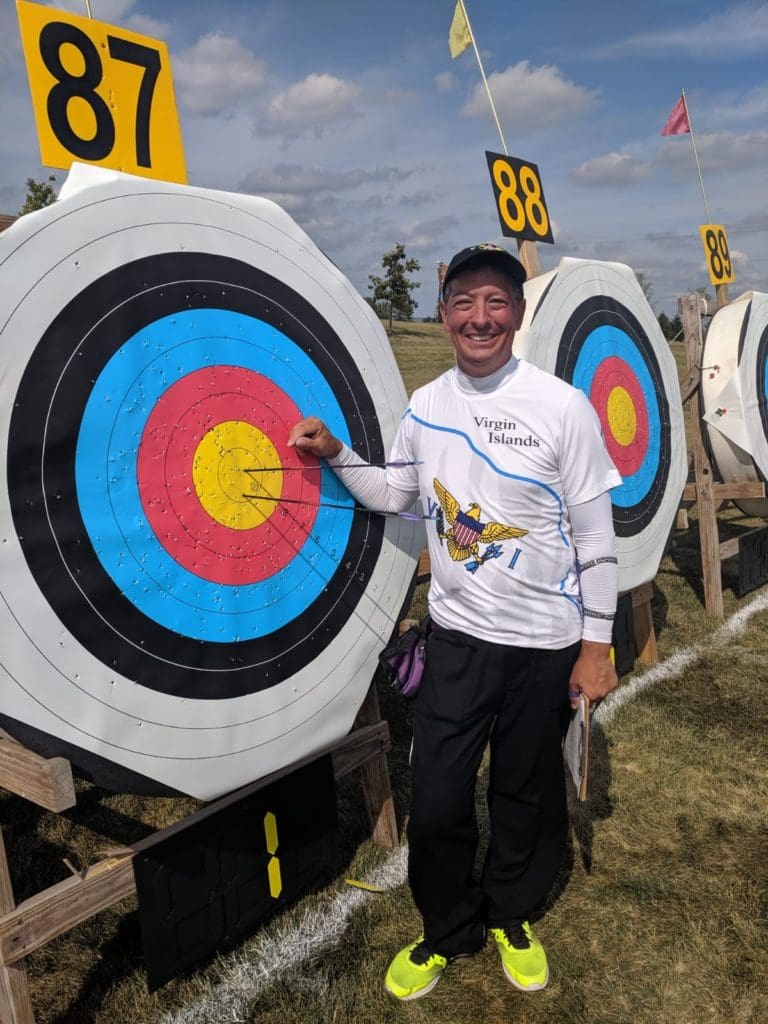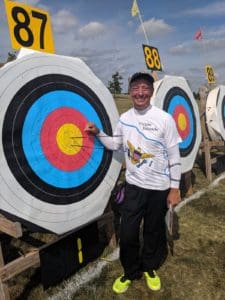 Crucian archer and Virgin Islands Archery Federation Team member Bruce Arnold has wrapped up a very busy week in Dublin, Ohio, site of the 2019 U.S.A. Archery National Championships and U.S. Open. During the three-day competition, Arnold became the first Virgin Islander to qualify for the U.S. Open, set a personal best score across 144 arrows, and set the USVI record for a WA144 round with 1212 points accumulated over two days.
Effectively two tournaments held across three days, athletes from North America and as far away as Guyana and even Russia come to test their focus, aim and release against some of the best archers in the world. Making things even more difficult was the fact that this year's National Championship served as the first stage for the U.S. Olympic Team trials, which draw scores more archers who would normally not attend the event. Although he was not eligible to make the U.S. Olympic team because he is an Islander, it meant that the competition to qualify for the U.S. Open greatly intensified.
The first two days of the tournament constituted the U.S.A. Archery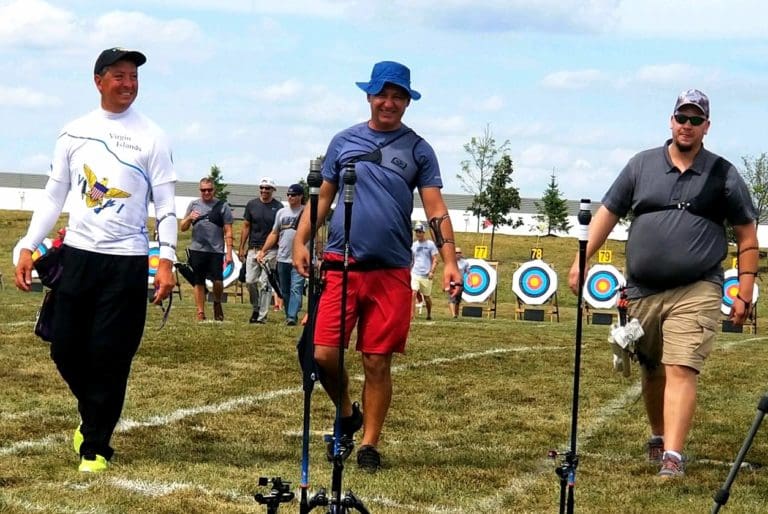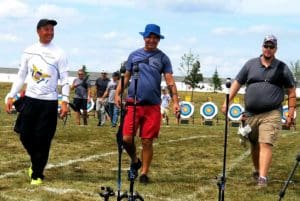 National Championships and also served as the qualifying round for the U.S. Open, which took place on the third day. Arnold scored 1212 points after his 144 arrows were shot (72 on each day); his score was not only a personal best, but set a USVI record for the WA144 round.
In order to make the U.S. Open, Arnold needed to be in the top 64 out of the field of 162, and his aggregate score was good enough for 61st place (6th in the Guest/Non-US category), making him the first islander to qualify for the open.
On the first day, Arnold also teamed up with Elizabeth Dickerson, a protegee of Richard "Butch" Johnson, for the mixed team round. After the first day's 72 arrows were shot, Dickerson and Arnold qualified 42 out of 48, but a few unfortunate arrows saw them eliminated during the first round by a team that consisted of a former USA Archery National Team member.
On the second day, Arnold teamed up with former Turkish National Team member Ali Gungoraydinoglu and former USA Archery Team member Brandon Spray for the men's team round. Arnold was selected as anchor, which is the final archer in rotation to shoot his two arrows. Their combined WA144 arrow score was enough to seed them ninth (out of 18) and gave them a first-round bye.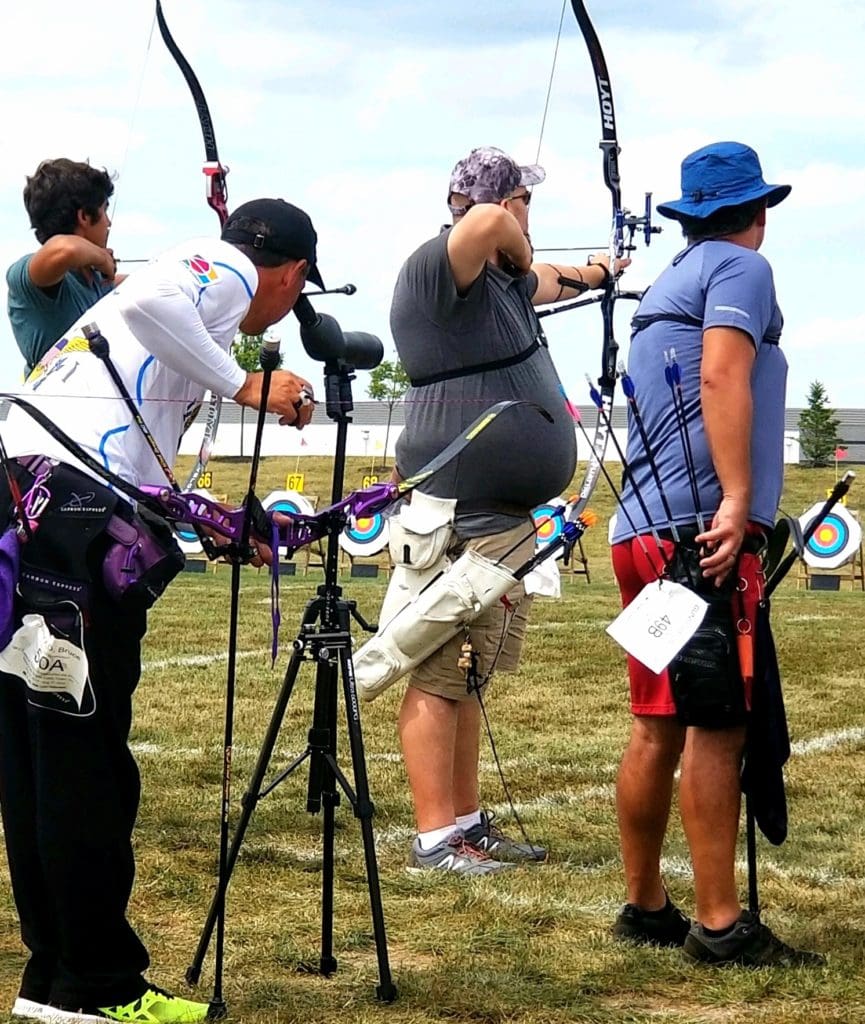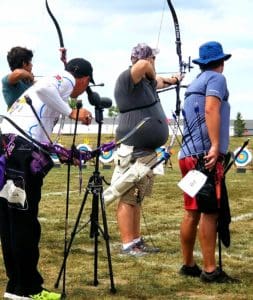 In the 1/8 round, Arnold's team easily won against the eighth-seeded team, which included an archery coach at James Madison University and a USA Archery resident athlete. Unfortunately, due to their draw, Arnold's team next met the USA Archery World Championship and Lima Pan American Games bronze medal-winning team of Brady Ellison, Jack Williams and Thomas Stanwood. Although they went down to this world-class combination, they were the only team to win points from them other than the USA Archery Team trio who lost to them during the gold medal round.
On the third day, Arnold's 61st-ranking drew him in a head-to head match against the now-familiar Stanwood. "Drawing the third-ranked archer in the United States wasn't ideal in a lot of ways, but I came to this tournament to test myself directly against the best of the best, so I was looking forward to it!"
In head-to-head matches, three arrows are shot at a time and the person with the higher score receives two points; if there is a tie, then the points are halved. Archers shoot three-arrow ends until one of the archers amasses at least six points. "I managed to take a point off of Stanwood, which I feel is a major accomplishment for me. On top of that, several ends were decided by just one or two points, which means with just a bit more practice I should be able to find many successes against even the best archers."
Although final standings aren't yet compiled, the fact that Arnold wasn't blanked by Stanwood means that he most likely ended up in the top 50 for the U.S. Open.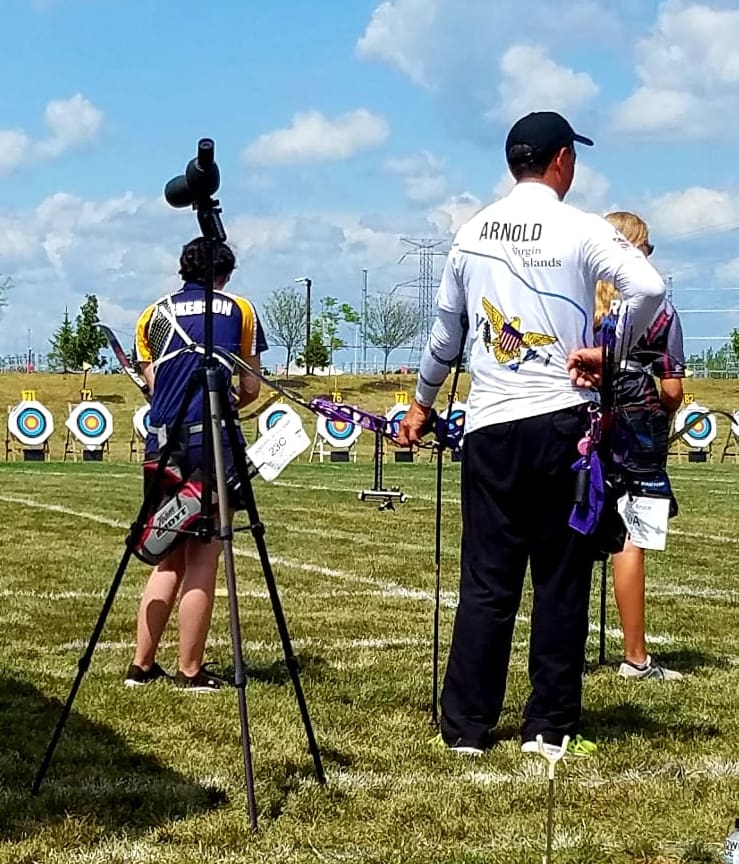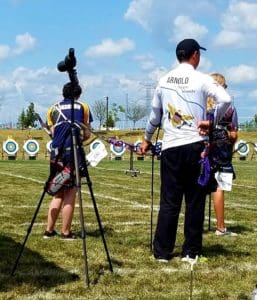 Of the entire experience, Dr. Arnold said, "One of the greatest aspects of archery is that there are no direct competitors — it's you against yourself, which means you can find joy in the sport in many different ways. I hope that islanders will find inspiration in what me and the rest of my team are able to accomplish at events like this so that they can enjoy the sport as much as I do."
Up next for USVI's National Archery team are the 2019 World Youth Archery Championships that get underway on Aug. 20 in Madrid, Spain. Archer Nicholas D'Amour is the USVI's representative and current record holder in several categories.
Those wishing to follow the scores of USVI athletes and find updates and photos can do so on the VIAF's Facebook, which is open for public viewing at: https://www.facebook.com/VIArchery.