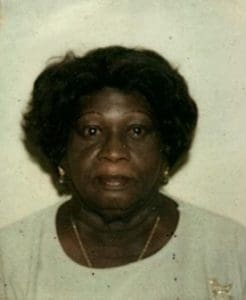 Josephine Stevens Rodriguez Dies at 63
Josephine Stevens Rodriguez, who lived 63 years in Rio Piedra, Puerto Rico and the last three years with her niece, Glenda Giron, in Christiansted, St. Croix, U.S. Virgin Islands, died on Thursday, May 23. Also known as "Josephina" and "Aunty," she was 92 years old.
She was preceded in death by her spouse, Santiago Rodriguez; mother, Elizabeth Beazer; father, Alfred Stevens Sr.; son, Almeric Rodriguez; sisters: Winefred Ellis (Vernon), Alexandrian Thomas (Hugo), Imogene Stevens, Gladys Stevens and Vivian Joseph (Zephneth); brother, Melvin Stevens; and nephews: Erwin Ritter, Roy Yasper and Raymond Joseph.
She is survived by her nieces: Vickie Lynn Ellis, Esther Walters, Joyce Commisiong, Glenda Giron, Clarissa Lockhart, Frances Caines, Eleanor Parris and Jacqueline Williams; nephews: Almeric Thomas, Gregory Ritter, Alfred Parris, Vernon Ellis Jr. and Vegan Ellis; and other nieces and nephews too numerous to mention to include: the Walters, Ritter, Awon, Rivera, Francis, Parris, Richardson, Caines, Williams, Giron and Lockhart families; special friends: Gloria Dimmer, Cathy Mason, Mary Hamilton, Kids Can Do It Day Care Crew, Continuum Care Inc., Naomi Gumbs, Lisa Magras and Donna Gaskin.
Memorial services will be held at 10 a.m., Tuesday, June 25, at St. John's Episcopal Church located at No. 27 King Street, Christiansted, St. Croix. Interment will be held in Rio Piedras, Puerto Rico.
Cremation services are entrusted to Schuster's Crematorium LLC.