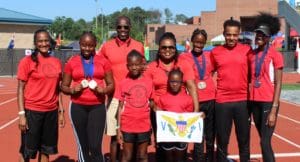 The St. Croix Track Club Mustangs brought home four golds, two silvers and one bronze medal while breaking Track & Field records at the Atlanta, Georgia Relays. Athletes came from all over the ECaribbean, including Trinidad & Tobago, Jamaica, Bahamas, the British Virgin Islands, Argentina and others.
Mustangs who competed were Jeniqua Weekes, Faith Eatmon, Mikaela Smith, Michelle Smith, Ariana Edgar and Samuel Cole. The event was held on May 25-26. V.I. athletes did well and achieved numerous personal records despite Atlanta's brutal 95-degree heat.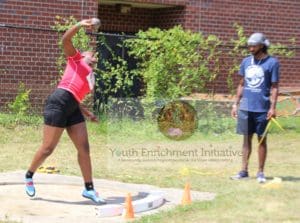 Michelle Smith won two golds. One in the 1500 meters and the 800m in a time of 5min 1sec and 2min 23sec, respectively. Ariana Edgar won two golds and one bronze in the throws. Her two gold medals came in the shot put and the discus where she putted the 8lb shot 33ft 2in (9.82m) and 106ft (32.31m) for the discus. Both of those events results were record setting performances. The shot put was two meters further than the old record, while the discus was 11 meters better than the old record. Edgar also achieved bronze in the javelin with 54ft. 7in (16.67m); Mikaela Smith won two silvers — the 400m hurdles in 63.95sec, and the 800m in 2min 20sec.
The team was sponsored by VI Lottery's Youth Enhancement Initiative and others. If there are any questions, contact Keith Smith at 277-1123. Full results can be found at website: http://www.agrelays.com