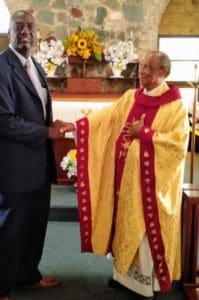 The faith community can serve as a critical link between police and the citizens they protect and serve.
As part of a Virgin Islands Police Department initiative, called "Meeting the People," Deputy Commissioner of Police Celvin G. Walwyn visits a local church every other Sunday. The concept is that many people do not attend town hall meetings, but they will attend church on Sunday.
Walwyn, an ordained minister of the Gospel, is very much at home during his visits. On Sunday, May 19, he attended St. Ursula's Episcopalian Church on St. John where he was welcomed by Rev. Canon Rhymer.
Spiritual figures can serve as a powerful calming influence, defusing potentially volatile situations and even garnering a public show of support for the police. At the same time, they can serve as law enforcement's most trenchant critics. And they can offer this support from the church pulpit.
"As one of the leaders in the police department, we can build safer communities by taking steps to reinforce this connection, said Walwyn.
He will continue to visit local churches throughout the territory. To contact Deputy Commissioner Walwyn, call 778- 2211 on St. Croix or 774-2211 on St. Thomas-St. John.