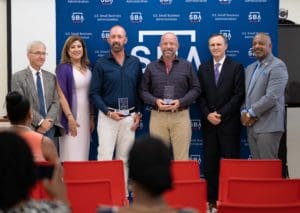 The U.S. Small Business Administration (SBA) and the Virgin Islands Small Business Development Center (SBDC) have honored business partners Christopher "Topher" Swanson and Jeff Printz, leaders of Evolve USVI LLC (The Fred), with the 2019 U.S. Virgin Islands Entrepreneurs of the Year Award.
SBA District Director Yvette T. Collazo, SBA Virgin Islands Senior Area Manager Wayne Huddleston and SBDC Acting State Director Steen Stovall presented Swanson and Printz with their award at the Small Business Week closing ceremonies co-hosted at the University of the Virgin Islands. Lt. Gov. Tregenza Roach was the keynote speaker.
"Today we welcome Christopher Swanson and Jeff Printz into SBA's Hall of Fame. In the short time their boutique hotel has been in operation, they have created employment for over 20 individuals, provided quality service to the island's visitors, and contributed to their community's economic development. As Small Business Week 2019 comes to an end, we celebrate their achievements and success," said SBA District Director Yvette T. Collazo.
Evolve USVI LLC is a Virgin-Islands-based property development company that has identified and purchased a number of prominent properties throughout Frederiksted. The company's most recent project on St. Croix is The Fred Hotel, a historic, trendy and eco-friendly 22-room boutique resort and spa located right on the waterfront.
Huddleston said, "Small Business Week is all about recognizing the great contributions small businesses like The Fred make to our economy. Entrepreneurship takes passion, dedication and commitment, all of which Topher and Jeff have demonstrated throughout the years."
The business partners obtained orientation and business counseling at the VI SBDC, especially regarding regional laws and regulations in the hospitality field, along with valuable market research and assistance with product development.
"At the SBDC we look forward to an ongoing productive relationship with Topher and Jeff for years to come, so that together we may continue fostering St. Croix's economic development and creating jobs," said Stovall.
During the Small Business Week awards ceremony, the SBA also honored Banco Popular with the Lender of the Year Award to Banco Popular for its commitment to the small business community and participation in SBA's Loan Guaranty Program.
For information on SBA assistance for small businesses, visit www.sba.gov/pr.