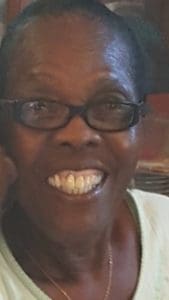 Rose-Ann Washington died on May 9.
She was preceded in death by her husband, George Washington; son: Carlos Ayala; brothers: Reginald Frederick, Douglas Frederick, Iva Mustrafa, Andreas Schou, Carl Schou and Aage Schou; sisters: Patricia Schou-Ruiz, Inez Schneider-Rogers, Cassandra Schou-Benjamin, Rita Schou-Simmond, Sheena Schou-Peteren and Wilma Schou-La Borde.
She is survived by her daughter, Dianna Washington; son-in-law, Terrence Iles; grandchildren: Kijon Carlito Washington-Moore, XiaXiang Kersni Washington, Sevon Jordan Washington, Nanci Lee Ayala and Michelle Lee Ayala-Collins; great-grandchildren: Vivian Collins, Silas Ayala and Nova Rush; special nephew, Lawrence Sarauw; special niece, Theodore A. Petersen; special godchild, Nadine Davis Glasgow; and godchildren: Dean and David Weeks, Randy and Raymond Abramson.
She is also survived by special friends: Sara Espinosa, Sherita Rolle, Lavern Bates Sr., Audrey Abel, Valencia William, Merle Maynard, Julietta John, Margaret Brown, Bradley Christian, Marva O'Neal, Sheila Gotta, Greta Roberts, Wilma Abramson, Baxter and Ann Webbe, Ann Dut'e and Dorothy Hendricks. She was also related to the Clarke, Claxton, Pemberton, Henry, Boilling, Knight, Christian, Frederick and Schou families.
The family requests that those in attendance wear festive colors.
In lieu of flowers, donations can be made to V.I. Sickle Cell Foundation Parent Support Group at P.O. Box 4389, Kingshill, St. Croix 00851.
The viewing will take place at 9 a.m. followed by the funeral service at 10 a.m., Thursday May 23, at the St. Paul Episcopal Church, Frederiksted, St. Croix. Burial will be at Frederiksted Cemetery. Funeral arrangements are being handled by James Memorial Funeral Home Inc.