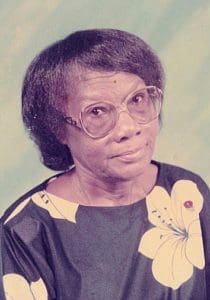 Agnes Theresa Straun of Estate Mon Bijou died on May 11. She was 95 years old.
She is survived by her daughters: Joyce Belle and Gale C. Clarke; son, Fritz Maurice Williams; grandchildren: Steven Peña and Nzinger Williams; nieces: Sheila Williams, Joycelyn Straun, Gloria St. Clair and Angela Straun; nephews: Samuel Straun, Kenneth Straun, Irvin Straun Sr., Winston Straun, George Straun, Dale Straun, Frederick Straun, Asman Straun and Conroy Straun; and great nieces: Naomi Straun, Donna Straun ,Sandra Straun, Ezra Straun, Josie Straun, Brenda Straun, Frederica Straun, Maria Del Carmen Straun, Lynell Straun, Beverly Percival, Denise Straun, Janice Straun, Maria Straun, Renina Straun, Colleen Straun, Dee Straun, Kaira Straun, Charli Straun, Kaira Straun, and Zion Straun.
She is also survived by great nephews: Lanclot Straun Jr., Richard Straun, Roger Straun, Dr. Teo-Carlo Straun, Mario Straun, Altoglacio Straun, Dwayne Straun, Irvin Straun Jr., Alex Straun, Lynford Staraun, Jared Straun, Jermaine Straun, Olanso Straun, Paul Crump, Khan Straun, Marlon Straun, Dwight Straun, Sherman Straun and Emil Straun; sister-in-law, Gloria Straun; and special friends: Lucia Frederick, Wilma Fredericks, Jackie Dolcar, Vybrett Thomas, Carol Atwell, Mr. and Mrs. Barcus, Bernadine Jn Baptiste, Barbara Taylor, Mr. and Mrs. Cherubin, Kathleen Cockburn, Pastor Claudette Andrews, Rose Joseph, Edward Griffin, Mr. and Mrs. Ted Mills, Donna Pierre and the Tuesday visiting group from Christiansted Church.
A viewing will be held at 9 a.m. and funeral services at 10 a.m., Sunday, June 16, at Central Seventh-day Adventist Church. Interment will be at Kingshill Cemetery.