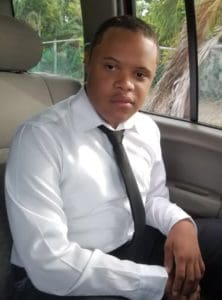 Kevin Alexander Marcus, also known as "El Rey," of Estate Hannah's Rest died on May 16. He was 15 years old.
He was preceded in death by his father, Wilfred Marcus.
He is survived by his mother, Ada Marcus; sisters: Kayra Hicks, Sherelene Marcus and Roxanne Marcus; brothers: Luis Polanco De Leon, Kendall Marcus, Gregory Marcus, Wilfred Marcus III, Paul Marcus and Darrell Washington; aunts: Julie Benjamin, Julita Benjamin, Ana Mota Benjamin, Luz Maria Benjamin, Darlene Anderson, Elouise Williams, Karina Benjamin, Rosa Iris Michael and Sandra Oloughlin; uncles: Fernando Benjamin, Juan De La Rosa, Johnny De Leon, Virgilio De Leon, Carlos Maxwell and Marco Benjamin; and special friends: Deanna Thompson, Yessenia Saldana, Jaydin Velazquez, Nahshon Hendricks and Magdy Dawod.
Other survivors include my beloved teachers: Mercedes Celzo, Risa Adams, Tamara Jackson and Geliza Santiago; special thanks to my extended family in Houston, Texas: Omari Davis, Mario Ganzales, Lina Gonzales, Bleidy Castrellon, Mirian Rivera, Marla Matthews and family, and Norma Linares; cousins and other relatives: Billy Gonzalez, Frances Mercedes, Ernest Hendrickson, Gregory Felix, Maurenn Benjamin, Richard Benjamin, Katherine Benjamin, Fernandito Benjamin, Emanuel Robles, Jayden Benjamin, Anthony De Leon, Anita Benjamin, Vidalina De La Rosa, Juliana De Los Santos, Anthony Hughes, Yvonne Hunt, Wanda Soba and Liliana Familia; as well as other relatives and friends too numerous to mention.
The viewing will be held at 9:30 a.m. followed by the funeral service at 10:30 a.m., Thursday, May 23, at James Memorial Funeral Home Chapel. Interment will be at Kingshill Cemetery.