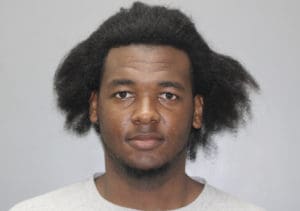 Police on St. Thomas arrested 20-year-old Eliandro Tolentino Martinez Sunday and charged him with a domestic violence assault in an incident that caused lacerations on the victim's arm, the V.I. Police Department reported.
According to police, at about 10:30 a.m. Sunday the Domestic Violence Unit was advised of an assault at Estate Altona. Officers made contact with a woman who said she had been assaulted by a male acquaintance.
The victim, whose name was not released by police, said that around 3 a.m. Sunday Martinez forced his way inside her residence, stating that he wants to be with her. A verbal altercation followed, she told officers, and then it became physical. When the woman's neighbor intervened Martinez took her phone and left.
She told police he returned to her residence and continued to verbally abuse her. During the altercation, she said, he retrieved a rum bottle, broke the bottle against a table and cut her with it on her right arm.
The victim sustained several lacerations to her right forearm and hand which she refused medical treatment for.
At about 1 p.m. Sunday officers advised Martinez of his constitutional rights and placed him under arrest for third-degree assault/domestic violence.
Martinez was booked, processed and turned over to the Bureau of Corrections pending his advice of rights hearing. No bail was set as per the territory's domestic violence law.
VIPD Deputy Commissioner of Police Operations Dr. Celvin Walwyn recently stated, "I am in full support of all efforts to reduce domestic violence in the territory. There is no justification for DV crimes."