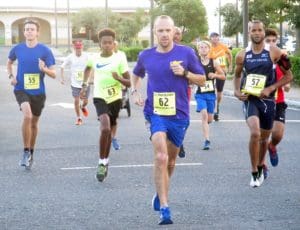 The course if flat…that makes it fast; the race is short…that makes it one of the easiest on the annual V.I. Pace Runners calendar; the venue is at the Henry Rohlsen International Airport and Route 64, and the pilot/CEO has won it more times than anyone, thus the name Flight 64 4mile.
As was the case on Sunday morning, Juan Robles and Billy Bohlke would test each other once again on familiar road. Robles, now the dominant runner locally, led the way once again to take first place over Bohlke, who is now a masters runner and last saw victory over Robles when he was the top distance runner at LSU. Robles' time was 21:27; Bohlke's was second in 24:15; Bridget Klein, the lone female in the race, was third overall in 25:15; Brice Richards was fourth in 26:47; Randall Nielsen was fifth in 27:47; Nayan Bansal was sixth in 28:03; David Conoff was seventh in 29:34; Robb Wolfe was eighth in 32:54; Jackson Arshambalt was ninth33:27; Rand Arshambalt was tenth 39:47; Mike Klein (pushing son Michael in three wheeler) was next in 41:00; Larry Williams was 10th in 65:22
The next event on the V.I.Pace Runners calendar is the UVI Founders Day Mile 6:30 a.m., Friday, March 22, at the University of the Virgin Islands St. Croix campus.