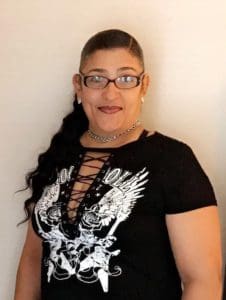 Migdalia Encarnacion died on Jan. 27.
She preceded in death by her son, Luis O. Encarnacion; and brother, Luis E. Encarnacion.
She is survived by her mother, Maria Perez; father, Luis Encarnacion; daughters: Celestine Alicea and Nickisha Nico; sons: Jose Alicea, Akkido Lindquist Jr., Kalim Lindquist and Kadeem Lindquist; brothers: Santiago Encarnacion, Carlos Encarnacion, Reba Encarnacion and Guarionex Carrion Perez; significant other, Akkido Lindquist; daughter-in-law, Alexandria Alexis; son-in-law, Leroy Simmonds; and granddaughters: A'Nayah Simmonds and Ky'Mayah Simmonds.
She is also survived by grandsons: Luis O. Encarnacion, Amari Simmonds and Jayce Alicea; nieces and nephews: Katherine, Jordan, Guarionex, Javet, Huran, Luis, Darcia, Marc Anthony, Jomar, Carla, Cayla and others too numerous to mention; family and friends: Encarnacion family, Nico family, Marisol and family, Ronique Webster and family, Kia McNamara Michael and family, Lisa Santiago-Timmons and family.
The family asks per Mom's wishes that those who attend please wear festive colors.
There will be a viewing at 9:30 a.m. followed by a funeral service at 10:30 a.m., Friday, Feb. 8, at Holy Cross Catholic Church, Christiansted.