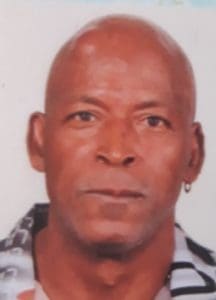 Sylvester Hodge, also known as "Syl," of Bethlehem Apartments died on Saturday, Jan. 26. He was 60 years old.
He was preceded in death by his daughter, Carleen Williams; sons: Sylvester Hodge Jr. and Stephen Hodge; and nephews: Jaheal Gomez and Dale Barnes Jr.
He is survived by his mother, Guillermina Hodge; daughter, Sylvia Hodge; sons: Daniel Hodge, Gregory Hodge and Solan Hodge; grandchildren: Jahiva Crispen, Sylvester Hodge III, Solan Hodge Jr., Sohann Hodge, Ariel Petersen, Aron Hatchett, Abbygail Poleon, Alick Hatchett, Keara Benjamin, Indica Daley, Kiana Davy, Stephen Hodge Jr., Sadek Hodge and Sadany Hodge; and great-grandchildren: Neveah Nieves and Tunky Nieves; sisters: Marilyn Hodge (Ihesha), Deborah Hodge, Delores Jacobs and Nathalie Hodge; and brothers: Elliot Guzman II, Luis A Rivera, Pablo Garcia Jr., Michael Felix and Nadaniel Hodge.
He is also survived by nieces: Sheriann Springer, Sade Simon, Maria Isaac, Rasheka Isaac, Olesia Jeffreys, Jaileem Rivera, Kalisha Hodge and Carmen Guzman; nephews: Karmal Barnes, Jazmach Isaac, Bernard Brown, Elliot Guzman III, Emmanuel Guzman, Luis Guzman, Jorge Guzman, Luis Rivera Jr., Xavon Christopher, K'mouy Pickering and K'maury Pickering; and great nieces: Joella Barnes, Deshala, Deshyla, Biniqua, Bryanna, Ja'meisha Joseph, Ma'kayla, Jazyra, Ja'ziniya and Janca Isaac, K'niya, Kimyah and Leniyah Brown, Amilya Guzman, Marissa Juliao, Nia Christopher, Kaylee St. Juste and Rodneisa Caldwell.
Other survivors include great nephews: Masude Williams, Ja'zai and Ja'zaire Isaac, Daniel Remie III, John Joseph Jr., L'jani, KayDen Brown, Timmy Caldwell, Xavon Christopher Jr., Elliot Guzman IV and Rodrigo Juliao Jr.; special friends: Bertnam McIntosh, Maria Maynard, Jose Crespo, Cherry Renoud, Natasha Wheeler and Austin Battiste Jr.; as well as other relatives and friends too numerous to mention.
A viewing will be held at 9 a.m. followed by a funeral service at 10 a.m., Friday, Feb. 8, at St. John's Episcopal Church. Interment will be at Kingshill Cemetery.