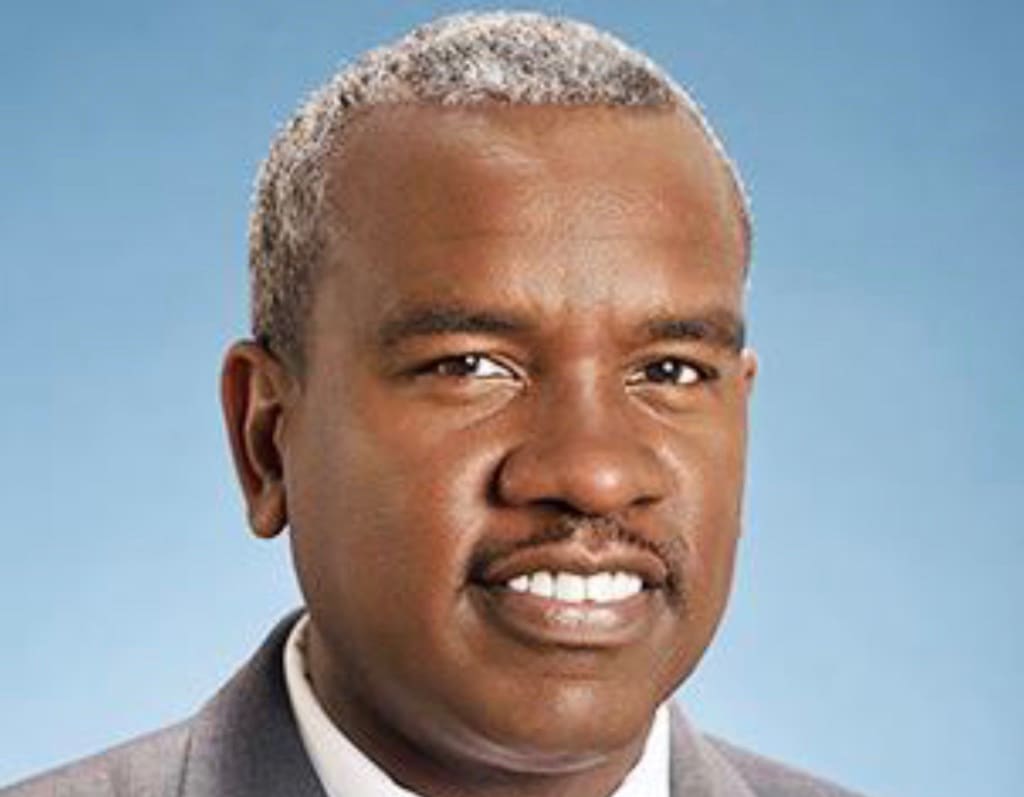 Editor's note: This story was updated at 12:45 a.m. Wednesday to add quotes and information on issues with voting on St. Croix.
According to unofficial territory-wide results, the team of Albert Bryan, Jr. and Tregenza Roach won Tuesday's gubernatorial runoff election, beating incumbents Kenneth Mapp and Osbert Potter, 11,796 votes to 9,766.
Speaking after a rally on St. Croix, Bryan said he was "blown away" by the commitment and hard work of his team, and is now ready to do some of things he talked about on the campaign trail.
Pre-work for the transition team has already begun and Bryan said the next step is to start collecting resumes for cabinet members and key positions, and to initiate talks with the territory's federal partners to see what money continues to come in to aid the territory's ongoing recovery.
"We can get into more once we know what the status of the island is financially," he said. "I think the message that we carried tonight, as well as unity and change, is that we're going to put the Virgin Islands back together and stop this kind of separatist dialogue."
Bryan also talked about infusing technology into government services, giving new hires a "real chance" based on their resumes and looking to "keep the wheels churning as quickly as possible" as his team transitions into office.
Mapp conceded the election just after 9:30 p.m. Tuesday at his St. Thomas headquarters.
In a news release issued early Wednesday, Mapp called for unity after the campaign, urging all Virgin Islanders to come together to support the territory's recovery efforts under the leadership of the newly elected administration.
"We have had our election and now let's refocus on the future and the prosperity of the Virgin Islands," Mapp said. "Let's bring the Virgin Islands together and put our political differences aside so that the new administration can come in and take up the task."
Mapp also expressed his appreciation to the voters and campaign workers. He said he was honored and humbled by the opportunity to serve in the territory's highest office.
Bryan and Roach had the lead in early returns on St. Thomas-St. John, where ballot counting began around 7:30 p.m. With early voting numbers tallied first, the team started with 3,189 votes, while Mapp and Potter posted 799. The divide continued to grow over the next few hours, and by the time 10 out of the 13 precincts in the district were counted, Bryan and Roach's total had grown to 9,189, with Mapp and Potter at 4,729.
Throughout the evening, no numbers were posted from St. Croix, nor could they be found on the Election System's website up to 9:30 p.m. A few minutes later, however, the final territory-wide results were announced, showing Mapp behind by a little more than 2,000 votes.
Asked why there had been no updates from St. Croix throughout the evening, Elections System officials said they didn't know, but likely that it was a decision made by the St. Croix contingent of the V.I. Elections Board.
"If you look at the numbers, Albert won the general election, and that kind of always dictates what happens in the runoff," said Abbelle Bakr, chair of the New Horizons Women's Democratic Club said. The organization endorsed the Bryan and Roach team and hosted an event to hear the candidates speak more about their platform, and from there, Bakr said she saw the opportunity for women's voices and issues to be heard.
"That doesn't mean we intend to be easy on him," she said of Bryan. "These endorsements aren't bought and paid for, but they do come with a price. We do believe in him, we support him, we are looking forward to a future where women's voices are heard, and we hope that change will be effectuated."
Creating a message that resonated with a variety of voters was a key part of the strategy, according to Brad Nugent, creative director for the campaign's public relations, advertising and marketing committee. Speaking from St. Croix Tuesday night, Nugent said traditional media – newspapers and radio – messages were integrated with a strong social media campaign that allowed voters to get updates from Bryan and Roach through different mediums.
Nugent said a strong slate of gubernatorial candidates in the primary and general election also pushed the Bryan and Roach team to work harder and "become better because of all the contributions that were coming in from the other teams."
"And now, the important thing is to just make sure as much as we can that we're consistent," he added. "I think that people expect that the way we campaigned is the way we are going to govern, and that means being inclusive, fair, thoughtful and deliberate. And if that happens, I think Albert Bryan and Tregenza Roach can be one of the most memorable teams in the Virgin Islands in terms of leading the community."
Looking back on the day, Elections Board chair Arturo Watlington, Jr. said the runoff went smoothly, with "no problems experienced" at the polls he had visited or checked on St. Thomas-St. John, though there did appear to be issues early on in St. Croix.
Board of Elections member Raymond Williams confirmed that the voting site at Lew Muckle Elementary ran out of ballots and there were reports of ballot shortages at Sion Farm as well.
"But we still have activator cards (blank ballots) to be used on the Express Vote machine," Williams said.
Williams was referring to a backup system where the voter is given a card, which activates the ExpressVote machine when inserted. The voter selects his candidate on a screen, the machine prints on the card, and the card is inserted into the DS200 tabulators.
"Everyone will get a chance to vote," Williams said, when asked about a report that the ExpressVote machine at Sion Farm was malfunctioning or not working, leading to delays.
Meanwhile, approximately 4,000 fewer voters showed up to vote in the runoff than in the Nov. 6 general, and while political commentators chalked it up to voter apathy, Watlington said he didn't have a definitive answer as to why.
According to Elections, 21,562 votes (whether early voting or from the polls) were counted Tuesday.
"We do have a huge amount of absentee ballots, though," Watlington added. He explained that because the absentee ballots were not printed on paper that can feed into the system's DS200 machines, most will have to be "remade" and counted with the Express Vote machine. Absentee ballot counting starts Wednesday at the Elections offices in both districts, but Watlington said by law, the board will have to wait another 10 days so that all can come in and the runoff can be certified.
Asked how well the unified Elections board worked throughout the past three elections, Watlington added, "no comment."
Melody Rames contributed to this story.