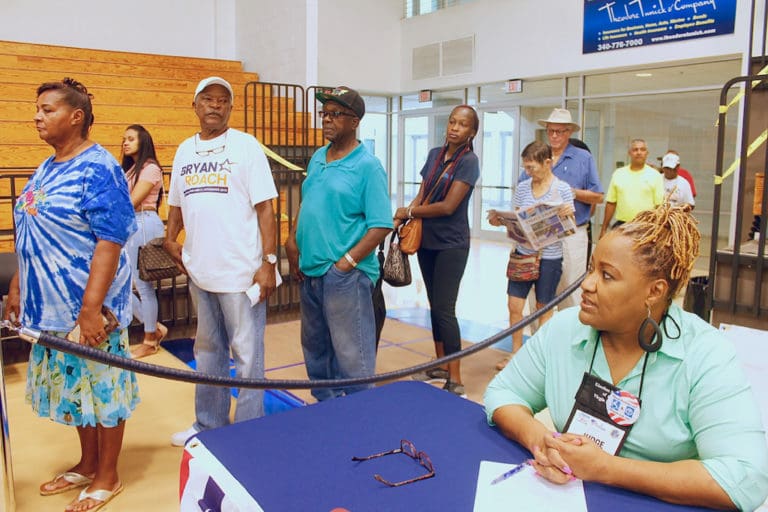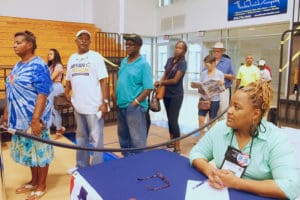 On Wednesday, Nov. 14, the Board of Elections of the St. Thomas-St. John District and the St. Croix District counted the Provisional Ballots. The attached unofficial report with the updated contests is attached.
Pursuant to Virgin Islands law, the Board of Elections will complete the Mail-In Absentee on Friday, Nov. 16. The counting will be held at the Elections System offices starting at 2 p.m. Office locations are as follows:
St. Croix Elections Office: Sunny Isles Annex, Unit 4
St. Thomas Elections Office: Lockhart Gardens (upstairs Banco Popular)
The media, candidates and public are invited to view the process.
It there are any questions or concerns, contact the Elections offices at 773-1021 (St. Croix Elections office) or 774-3107 (St. Thomas office).
For the latest information on unofficial results from the 2018 General Election, visit www.vi.vote.gov
SUMMARY REPORT –USVI GENERAL ELECTION HELD NOVEMBER 6, 2018 (RUN DATE:11/14/18/ and RUN TIME: 05:27 P.M.)
UNOFFICIAL RESULTS
******NUMBER OF VOTES/ PERCENT******
PRECINCTS COUNTED (of 29) . . . . . 29/ 100%
REGISTERED VOTERS – TOTAL . . . . . 51,095
BALLOTS CAST – TOTAL. . . . . . . 26,139
BALLOTS CAST – BLANK. . . . . . . 85/ .33%
VOTER TURNOUT – TOTAL . . . . . . 51/ .16%
VOTER TURNOUT – BLANK . . . . . . .17%
DELEGATE TO THE HOUSE OF REPRESENTATIVES (VOTE FOR 1)
Stacey Plaskett (Dem.) . . . . . . 16,195/ 98.42%
WRITE-IN. . . . . . . . . . . 260/ 1.58%
GOVERNOR AND LIEUTENANT GOVERNOR (VOTE FOR 1)
Albert Bryan (DEM) . . . . . . . 9,595/ 37.93%
Kenneth E. Mapp . . . . . . . . 8,501/ 33.60%
Adlah "Foncie" Donastorg . . . . . 4,170/ 16.48%
Warren Mosler . . . . . . . . . 1,191/ 4.71%
Soraya Diase Coffelt. . . . . . . 1,181/ 4.67%
Moleto A. Smith . . . . . . . . 397/ 1.57%
Janette Millin Young. . . . . . . 234/ .92%
WRITE-IN. . . . . . . . . . . 29/ .11%
LEGISLATURE OF THE VIRGIN ISLANDS AT LARGE – (VOTE FOR 1)
Steven D. Payne Sr. (Dem.) . . . . . 8,249/ 43.84%
Sherry-Ann Francis . . . . . . . 6,321/ 33.59%
Angel L. Bolques Jr.. . . . . . . 4,196/ 22.30%
WRITE-IN. . . . . . . . . . . 51/ .27%
LEGISLATURE OF THE VIRGIN ISLANDS/ ST. THOMAS-ST. JOHN (VOTE FOR 7)
Donna Frett Gregory (Dem.) . . . . . 6,866/ 10.48%
Marvin A. Blyden (Dem.) . . . . . . 6,268/ 9.57%
Athneil "Bobby" Thomas (Dem.) . . . . 5,619/ 8.58%
Dwayne M. DeGraff. . . . . . . . 5,371/ 8.20%
Stedmann Hodge Jr. (Dem.) . . . . . 5,347/ 8.16%
Janelle K. Sarauw. . . . . . . . 5,254/ 8.02%
Myron D. Jackson (Dem.) . . . . . . 5,071/ 7.74%
Carla Joseph (Dem) . . . . . . . 4,826/ 7.37%
Alma Francis Heyliger (ICM) . . . . 4,556/ 6.95%
Jean A. Forde (Dem.) . . . . . . . 4,145/ 6.33%
Stephen "Smokey" Frett (ICM) . . . . 2,986/ 4.56%
Irvin Pudna Mason, Sr. . . . . . . 1,989/ 3.04%
Dolores Todmann . . . . . . . . 1,697/ 2.59%
Wilma Marsh Monsanto. . . . . . . 1,642/ 2.51%
Gustave R. Dowling . . . . . . . 1,241/ 1.89%
Bruce Flamon (Rep.) . . . . . . . 1,102/ 1.68%
Margaret Price. . . . . . . . . 732/ 1.12%
George Trager . . . . . . . . . 622/ .95%
WRITE-IN. . . . . . . . . . . 189/ .29%
LEGISLATURE OF THE VIRGIN ISLANDS ST. CROIX (VOTE FOR 7)
Alicia Barnes (Dem.) . . . . . . . 7,484/ 12.46%
Allison DeGazon (Dem.) . . . . . . 7,421/ 12.35%
Kurt Vialet (Dem.). . . . . . . . 5,486/ 9.13%
Javan James (Dem.). . . . . . . . 5,423/ 9.03%
Novelle E Francis, Jr. (Dem.) . . . . 5,268/ 8.77%
Kenneth Kenny Gittens (Dem.) . . . . 4,220/ 7.02%
Oakland Benta (Dem.) . . . . . . . 4,099/ 6.82%
Genevieve Whitaker . . . . . . . 2,602/ 4.33%
Daren "Bogle" Stevens . . . . . . 2,565/ 4.27%
Michael J Springer . . . . . . . 2,157/ 3.59%
Lilliana Belardo-ONeal (Rep.) . . . . 2,120/ 3.53%
Robert B. Moorhead (Rep.) . . . . . 2,017/ 3.36%
Norman Jn Baptiste . . . . . . . 1,824/ 3.04%
Emmett Hansen . . . . . . . . . 1,647/ 2.74%
Patricia James. . . . . . . . . 1,613/ 2.68%
Malik Stridiron . . . . . . . . 1,207/ 2.01%
Troy Mason . . . . . . . . . . 1,107/ 1.84%
Carew Felix. . . . . . . . . . 860/ 1.43%
Omar Hashim Henry. . . . . . . . 429/ .71%
Abraham Ortiz . . . . . . . . . 374/ .62%
WRITE-IN. . . . . . . . . . . 164/ .27%
BOARD OF EDUCATION – ST. CROIX (VOTE FOR 2)
Terrence T. Joseph (Dem.) . . . . . 4,656/ 43.90%
Winona A. Hendricks (Dem.) . . . . . 3,803/ 35.85%
Carmen Huertas. . . . . . . . . 2,100/ 19.80%
WRITE-IN. . . . . . . . . . . 48/ .45%
BOARD OF EDUCATION – ST. THOMAS-ST. JOHN (VOTE FOR 2)
Judy M. Gomez (Dem.) . . . . . . . 5,512/ 37.04%
Jeanette Smith Barry (Dem.). . . . . 5,201/ 34.95%
Nandi SeKou Esq.. . . . . . . . 4,069/ 27.34%
WRITE-IN. . . . . . . . . . . 101/ .68%
BOARD OF ELECTIONS – ST. CROIX (VOTE FOR 3)
Raymond J. Williams (Dem.) . . . . . 4,494/ 43.85%
Barbara JacksoMcIntosh (Dem.) . . . . 3,723/ 36.33%
Frederick R. Espinosa (Rep.) . . . . 1,939/ 18.92%
WRITE-IN. . . . . . . . . . . 92/ .90%
BOARD OF ELECTIONS – THOMAS-ST. JOHN (VOTE FOR 2)
Atanya Springette (Dem.). . . . . . 4,186/ 37.81%
Harriet A. Mercer (Rep.). . . . . . 3,949/ 35.67%
Eduardo Carmona (Dem.) . . . . . . 2,755/ 24.89%
WRITE-IN. . . . . . . . . . . 180/ 1.63%
BOARD OF ELECTIONS – ST. THOMAS-ST. JOHN (VOTE FOR 1)
WRITE-IN. . . . . . . . . . . 391/ 100%