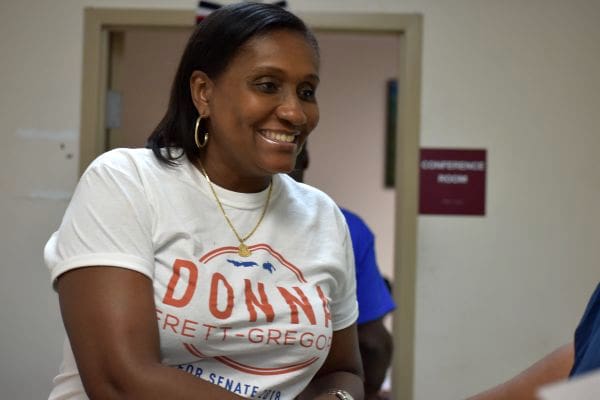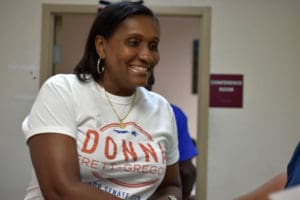 Female candidates and Democrats swept the districts' Senate races Tuesday night, including newcomers Donna Frett-Gregory and Alicia Barnes, who took the top spots on St. Thomas-St. John and St. Croix, respectively.
Both had also been the top vote getters in the Democratic primary, and credited their continued leads to solid platforms that deal with everyday community issues.
"It was important for us to remain focused on the issues," said Barnes, who received 7,310 votes, said from St. Croix Tuesday, according to unofficial returns. "With all that was going on in this election, we kept the high road, listened to the voters and put their concerns first. Now, we move forward focused on mental health, workforce development, streamlining government processes and other critical items."
According to the unofficial results on St. Croix, Barnes was followed by: Allison DeGazon with 7,266 votes, Kurt Vialet with 5,346 votes, Javan James with 5,309 votes, Novelle E. Francis, Jr. with 5,142 votes, Kenneth "Kenny" Gittens with 4,110 votes and Oakland Benta with 4,001 votes.
For Frett-Gregory, building a solid agenda that senators can work on together is the top priority. Frett-Gregory, a former Education commissioner, has emphasized her financial background and business experience over the past few months and shared ideas for stabilizing the economy and the ailing government pension system.
"There is much more to be done in the territory – the issues we have here didn't appear overnight," she said. "But we have to be honest with our people, recognize those things we can deal with right away and offer solutions that can be well executed. But, we must work together. We as a Senate can't be moving in different directions, otherwise, the needs of the people will not be met. We have to leave our egos at the door and stand fast and steady on results, not promises."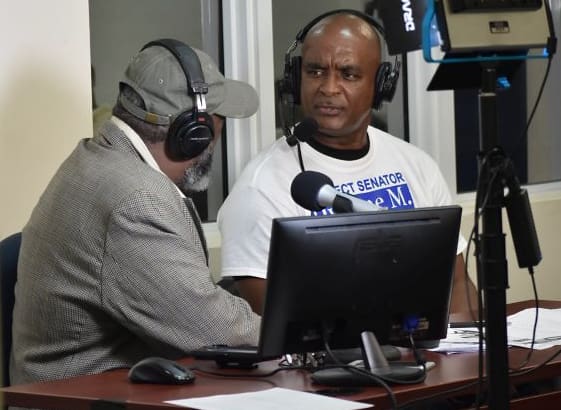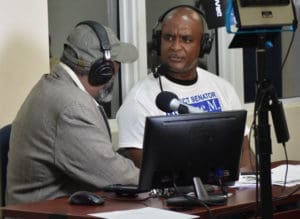 According to the unofficial results on St. Thomas-St. John, Frett-Gregory pulled in 6,316 votes, followed by: Marvin Blyden with 5,798 votes, Athneil "Bobby" Thomas with 5,218 votes, Dwayne DeGraff with 4,997 votes, Stedmann Hodge, Jr. with 4,979 votes, Janelle Sarauw with 4,753 votes and Myron Jackson with 4,617 votes. Newcomer Carla Joseph hangs in at eighth with 4,476 votes.
In the race for senator at large, Democrat Steven Payne outdistanced his two rivals in the unofficial results, capturing 7,778 votes to 6,005 for Sherry-Ann Francis and 3,959 for Angel L. Bolques.
On St. Croix, all winners are Democrats, while on St. Thomas-St. John five out of seven are.
"This is a brand new campaign, with new people with fresh ideas talking about changing direction, and it's time we started doing that," said Cecil Benjamin, territorial chair for the Democratic Party. "They're young folks, well qualified, well prepared, and I think they can put us on a new path. We're a party of progress, opportunities, and we're going to take care of these issues that are of utmost concern to the people of the Virgin Islands, and having these leaders in there, working together, is the first step toward getting that done."
Uncontested Democratic candidate Stacy Plaskett also reclaimed her Delegate to Congress seat, while other unofficial election winners are:
St. Croix Board of Education:
Terrence T. Joseph (4,545 votes)
Winona A. Hendricks (3,677) votes
Board of Education, STT-STJ
Jody M. Gomez (5,070 votes)
Jeannette Smith Barry (4,785 votes)
Board of Elections, St. Croix
Raymond J. Williams (4,367 votes)
Barbara Jackson McIntosh (3,623 votes)
Frederick R. Espinosa (1,893 votes)
Board of Elections, STT-STJ
Atanya Springette (3,830 votes)
Harriet A. Mercer (3,639 votes)
Board of Elections members will start counting absentee ballots Thursday.