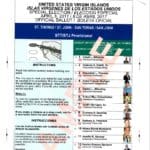 According to Virgin Islands law, the Move Act, absentee ballot applications are now available as of Sept. 11 through Sept. 20. (Mail out absentee deadline)
Persons must apply before Sept. 20 for any absentee ballot that must be mailed off island. This requirement is mandated to coordinate the timely delivery of ballots with the U.S. Postal System as per local and federal laws.
Absentee Applications can be picked up at the following offices:
St. Croix Elections Office – Sunny Isles Annex, Unit 4
St. Thomas Elections Office – Lockhart Gardens, upstairs from Banco Popular)
St. John Elections Office – Market Place, Suite II
Forms are also available on the website: www.vivote.gov
Supervisor of Elections Caroline F. Fawkes announces the availability of the 2018 General Election Ballots. Sample ballots can be obtained at the Elections Systems offices listed above or on the website.