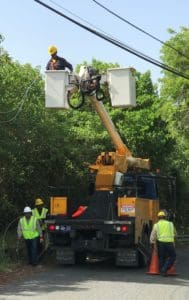 A two day series of workshops did more than highlight challenges faced by the V.I. Water and Power Authority before and after last year's storms; it gave officials the chance to collaborate and discuss solutions that could put them ahead of the game the next time the territory faces disaster.
Funded by the U.S. Department of Energy and organized by the American Public Power Association (APPA) and WAPA, the workshops  pinpointed improvement opportunities in the wake of the 2017 hurricane season, a season that produced two back-to-back Category 5 hurricanes that devastated WAPA's electric system.
While 90 percent of authority's customers had power restored before Christmas, WAPA head Lawrence Kupfer said in an interview with the Source this week that some key steps – like putting in place agreements with companies that can come in and help, and establishing contracts for the supply of materials – were completed after the storms when other issues, such as communications failures, made it difficult for the authority to stay on schedule.
To restore power, WAPA needed to bring in materials – poles, transformers, wires, etc. – that are not kept in large quantities on island, for example.
"After a storm, everyone is trying to get materials into the territory, so we have to get strategies and processes in place so that we don't get delayed again," he explained.
After hurricanes Irma and Maria, WAPA did what it could to avoid congestion at the docks – including trying to get its materials offloaded before anything else – but Kupfer said making sure the first step of having multiple contracts in place beforehand would cut down on shipping and response times.
"It's important to have contracts in place before the storm so that you can buy material and get contractors coming in to start the work," he added.
During power restoration, the Federal Emergency Management Agency is involved in part of the procurement process. Kupfer explained it gets harder for the two entities to coordinate after a hurricane hits and phone lines are down, and cell service is knocked out. By in large, WAPA reaches out to on- and off-island contractors before a storm hits, and works with them to keep tabs on its progress.
"We do this with private contractors, American Public Power, and they would mobilize men and equipment," he said. "But, like anything, getting a few steps ahead – if possible – is key."
Work is underway to streamline both processes, and Kupfer said that for the ongoing season, he feels comfortable that WAPA has been getting its ducks in a row. That includes focusing on every part of the process, such as buying satellite phones for officials and linesmen so that they can communicate with each other and the authority's contractors.
WAPA lost one of its linesmen during the restoration process, and Kupfer said another step is to send 16 more employees to technical training in Kissimmee, Florida with Electric Cities of Georgia. WAPA was awarded $500,000 for training through the Department of Interior.
WAPA was able to restore power within 100 days, meeting the government's overall timeline, but this week's workshops also focused on what can be done to cut the wait time down for customers.
Part of that, however, will require some time. In three to five years, WAPA hopes to have underground lines running to the meters of 50 percent of its customers, but in addition to going through the usual design, engineering, permitting and bidding processes, FEMA approvals are needed along the way.
Roughly $400 million in federal funds have been awarded to cover the costs of burying 275 miles of circuits, but Kupfer said FEMA has a lot to do with identifying which areas – hospitals and densely populated neighborhoods or towns, for example – will be powered by the underground system. Meanwhile, WAPA is in the process of executing a design contract for an underground system on St. John that has to pass a historical and environmental review, be approved by FEMA, and be put out to bid. With all of that, Kupfer estimated work on St. John will start "sometime next year."
The same process will be rolled out for St. Thomas and St. Croix. Currently, approximately five percent of WAPA's customers are hooked up to buried lines, and Kuper said they were re-energized and running a few days after the storms. The installation of composite poles in other locations is also included in the resiliency effort, and Kupfer said many have already been installed on Water Island, with work ongoing.
"It's three to five years of work, but it is also an important part of being better prepared and more resilient to begin with so that the damage is less extensive," he said.