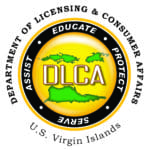 The Department of Licensing and Consumer Affairs (DLCA) notifies the public that a scam email message is targeting DLCA clients. It is being circulated from an unknown sender. Be advised that the email(s) will contain very little details, and they ask individuals to click on a link for more information. Do not click on the link.
The public is advised to delete suspicious emails and contact the DLCA immediately to verify all messages that appear to be questionable.
To make reports, email [email protected] or contact DLCA by calling district locations. Call the Consumer Affairs Division on St. Croix at 713-3522 or St. Thomas at 714-3522.