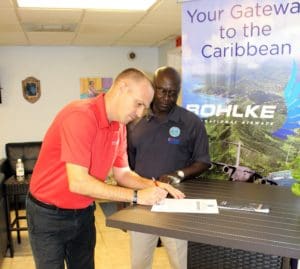 Thursday, William R. Bohlke signed a statement of support confirming the commitment of Bohlke International Airways (BIA) to the U.S. National Guard and Reserve. Bohlke serves as an aircraft commander in the U.S. Air Force (USAF) flying the C-130 Hercules for the Puerto Rico Air National Guard, and his wife Laurie is a veteran of the USAF. The proclamation was signed today in honor of the first National Employer Support of the Guard and Reserve (ESGR) week Aug. 19-25, which President Trump officially declared on Monday.
"Our team includes members of active and retired military, including pilots and administrators," said William R. Bohlke, BIA president. "Our family has supported all branches of the military in our near six decades on St. Croix and we always will."
Today's statement of support committed the leadership of Bohlke International Airways to:
– Recognize, honor and comply with the Uniformed Services Employment and Reemployment Rights Act (USERRA);
– Provide managers and supervisors with the tools they need to effectively manage those employees who serve in the guard and reserve;
– Appreciate the values, leadership and unique skills service members bring to the workforce and encourage opportunities to employ guardsmen, reservists, transitioning members and veterans; and
– Support and continually recognize our country's service members and their families in times of peace, crisis and war.
Bohlke International Airways is an award-winning fixed base operator (FBO) and charter fleet based on St. Croix in the U.S. Virgin Islands. They specialize in serving destinations on the United States east coast, northern South America and throughout the Caribbean. The company was established in 1959 by Bill Bohlke, Sr. It is a family-owned business with a third-generation Bohlke pilot at the helm. More information at Bohlke.com or by calling 340-778-9177.