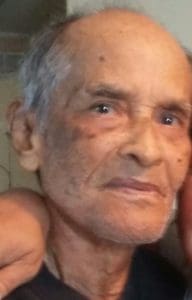 Benigno Ortiz Ayala, also known as "Nino," died on Aug. 6.
He is preceded in death by his mother, Claudina Ayala; father, Pablo Ortiz; and sons: Benigno Ortiz Jr., and Norberto Ortiz.
He is survived by his spouse, Gertrudis Davis Ortiz; daughter, Briseida Ortiz; sons: Wilfredo Ortiz and Carlos Ortiz; grandchildren: Anthony, Joel, Kiara and Maria Ortiz; brothers: Jaime, Victorino, Carlos and Angel; sisters: Julia, Maribelle, Carlota, Lucrecia, Lydia and Merilue; aunts: Felicidad, Gillermina and Leonor; uncles: Tomas, Juan Ayala and Mario Ayala; brothers-in-law: Fundador Jr, Carlos, Hector and Victor Davis; sisters-in-law: Carmen and Nancy Davis; nieces, nephews and cousins: too numerous to mention; special friends: God and family; and other relatives and friends too numerous to mention.
A viewing will be held from 3-5 p.m., Thursday, Aug. 30, at Divine Funeral Services Chapel, 129 Peter's Rest.
A second viewing will be held at 9 a.m. followed by a funeral service at 10 a.m., Friday, Aug. 31, at St. Joseph Catholic Church.