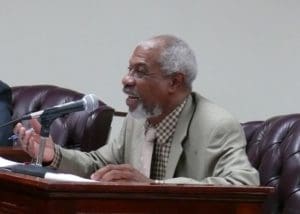 Mr. Dale Browne
Campaign Manager
Team Nemmy Political Action Committee
PO Box 670 Kingshill
St. Croix, V.I. 00851
Re: Petition Request for Candidate Ophelia "Nemmy" Williams-Jackson
Dear Mr. Browne:
This is to acknowledge receipt of the petition request you filed on behalf of candidate Ophelia "Nemmy" Williams-Jackson.
Although I am not sure that V.I. Code Title 18, chapter 23, section 629, authorizes you to submit a petition on behalf of a candidate; nonetheless, I have scheduled a USVI Board of Elections Meeting for Thursday, August 16, 2018, at 3 p.m. via video teleconferencing at the STX and STT Election Office Conference Rooms to decide upon the request.
Please be prepared to be specific regarding your allegations of "machine irregularities/ errors" since this is the first time I and other Board Members have heard of such allegations. You and the candidate may attend the meeting; however, only one of you may make the oral arguments regarding the same. Also, you can have voters/witnesses testify on your behalf if they experienced these "irregularities/errors."
The candidate's presentation shall be no more that 15 minutes and this time limit includes your witnesses' testimonies. After which, Board Members will have an opportunity to make statements or ask questions. The candidate will then have 3 minutes to respond and conclude the presentation before the Board renders a decision on the petition.
I would be remiss, however, if I didn't say that our voting system/process is not designed to give voters a receipt of how they voted and there is nothing in law that requires the Election System to do so. Further, if your allegations are true, Mrs. Williams-Jackson would not be the only candidate affected by these "irregularities/errors," rather all the candidates would be "victims" of this dastardly deed including the eight candidates for nomination who garnered more votes than Mrs. Williams-Jackson.
Sincerely, Arturo Watlington Jr. — Chair