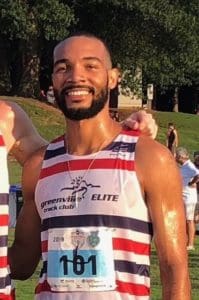 The Virgin Islands Track and Field Federation (VITFF) announced today that the season goes on in spite of the significant challenges to the track and field movement in the territory over the past couple of years (two hurricanes, limited access to track and field facilities due to construction and disrepair).
In cooperation with the V.I. Department of Education, the VITFF, with the help of its member clubs — St. Croix Track Club, Cheetahs Track Club and the Virgin Islands Pace Runners — was able to successfully stage high school meets on St. Thomas and St. Croix as well as the V.I. Track and Field Championships amidst to turmoil surrounding hurricane recovery.
Several V.I. National Track and Field Team members are concluding their 2018 season in their build-up for international championship competition.
Eddie Lovett ran a season best at the Alain Pompey Invitational in Guyana in 13.55 for first place. He has sustained a groin injury that will, unfortunately, keep him out of the important CAC Games and NACAC Senior Championships, which are vital stepping stones to the Pan American Games and IAAF World Championships of 2019
Eduardo Garcia, who was a surprise fourth place finisher in the 10,000 meters at the CAC Games four years ago, has run a V.I. National record in the marathon in the past year and finished in the top 25 in the prestigious Peachtree 10K on Fourth of July weekend, is looking for a medal performance in Colombia. He was the SEC 10,000-meter champ in 2015 and now trains with the Greenville Elite Track Club.
Fred Dorsey, the talented sprinter and long jumper at the University of Kentucky, in spite of having a personal best of 76.5 in the long jump in May, has decided to shift his focus to the sprints only. He had a personal best of 10.29 and advanced to the NCAA national Championships, finished fifth in 100m in Guyana with a 10.49.
Laverne Jones Ferrette, while approaching the close of a world-class career, ran well in the 200m and in the 100m in Guyana; she is a four-time Olympian and CAC Games veteran with a silver and bronze medal in the 100m; she is a graduate of Oklahoma University.
Muhammad Halim hopes to continue his success in the long jump in the CAC Games where he is a two-time silver medal winner. He is the V.I. national record holder in the triple jump, 2008 NCAA national champion while at Cornell University in the triple jump and two-time Olympian. This will be his fourth CAC Games appearance.
Evan Jones rose to the rank of top junior athlete with his silver medal performance at CARIFTA. He became the first Virgin Islands National Track and Field Team member to represent the Virgin Islands in the 1500m at the IAAF World Under 20 Championships in Tampere, Finland, this past weekend.
Malique Smith had a successful junior year at University of Arkansas Pine Bluff, and she ran well in Guyana. The CAC Games will be his first senior international championship.
Mikaela Smith, top junior female, is headed for the Youth Olympic Games in Buenos Aires, Argentina, to make a strong effort against senior runners in Guyana. She also had a strong performance this past weekend at the AAU National Club Championships with a silver medal in the 800m.
Wanetta Kirby, who has the V.I. heptathlon national record, has been focusing on the long jump and high jump with top finishes recently in Florida, Vancouver and Houston.
Michelle Smith, a 12-year-old, is turning heads as a youth performer as she won for the second year in a row the Women Race and took the silver medal at the AAU National Club Championships.
CAC Games Coaches Training Camp
Thanks to a grant from the IOC, PASO and the Virgin Islands Olympic Committee, the VITFF is able to set up a pre-CAC Games training camp in Houston, Texas and Cleveland, Ohio. The camp utilizes the expertise of V.I. National Track and Field coaches Nathan Taylor and Stephen Ferrette. The Houston camp is coordinated by Laverne Jones-Ferrette, team captain; the Ohio Camp is coordinated by Nathan Taylor.
Camp participants include: Laverne Jones-Ferrette, Wanetta Kirby, Nia Jack, Yashira Rhymer-Stuart, Fred Dorsey, Malique Smith, Leon Hunt and Avery Joseph.
CAC Games V.I. National Track and Field Team
At the request of the V.I. Olympic Committee, early in the year the VITFF submitted a long list of nearly 20 potential CAC Games team members. As it stands, the track and field team will consist of eight, based upon their performances and NACAC ranking, who will travel to Colombia. Selection for the NACAC Senior Championship to be held in Toronto following the CAC Games will be based upon performances in Colombia and availability of funds:
Females
Laverne Jones-Ferrette 100m, 200m
Nia Jack, 100m
Wanetta Kirby, high jump, long jump
Yashira Rhymer-Stuart, high jump
Males
Fred Dorsey 100m, 200m
Muhammad Halim, long jump
Malique Smith, 800m
Leon Hunt, long jump
Nathan Taylor, national coach
Trudie Golphin, team leader
Laverne Jones-Ferrette, female team captain
Leon Hunt, male team captain
Team members who were selected but will not compete
Male
Eddie Lovett, injury
Rodney Griffin, injury
Barthelemy Peter, declined invitation
Female
Myia Dorsey, declined invitation
Quashira Mc Intosh, declined invitation
Bridget Klein, declined invitation
For information, logon to: http://virginislandspace.org or email: [email protected] or email: [email protected] or call: 643-2557.