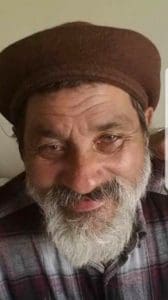 Carmelo Santiago Gonzalez Sr., also known as "Cachco Cranky," of Arios Dias died on July 9. He was 67 years old.
He was preceded in death by his mother, Matilda Gonzales; and father, Julio Santiago Morales.
He is survived by his sons: Carmelo Santiago Jr., Luis Santiago and Mayco Santiago; grandchildren: Carmelo Santiago III, Damaris Santiago, Taysha Thais Santiago, Sebastian Santiago, Nathalya Santiago, Nathalise Santiago, Daniel Santiago, Mayco Santiago Jr., Deanneé Santiago, Maleena Santiago, Keyana Santiago and Irie Santiago; sisters: Rosa Santiago, Candita Santigao, Maria Santiago, Manuela Santiago and Hilda Santiago; brother, Eugenio Santiago; as well as other relatives and friends too numerous to mention.
A viewing at 9 a.m. will be followed by a funeral service at 10 a.m. on Thursday, July 19, at Iglesia Casa, Estate Peter's Rest. Interment will be at Kingshill Cemetery.