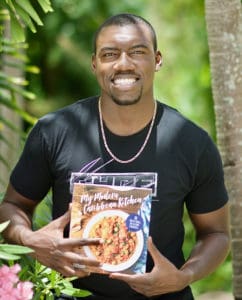 At age 30, Julius Jackson has accomplished more than some people twice his age. For the last two years he has been head chef and manager of My Brother's Workshop Bakery and Café. The husband and father is also a professional boxer, runs a catering company, an event management business and is now a published author.
"My Modern Caribbean Kitchen" will hit the retail shelves in late July throughout the Caribbean and across the mainland.
"I immediately accepted the position at the bakery because of my work at 'I Believe I Can Fly,'" the youth training program started by his dad, three-time middleweight champion boxer Julian "the Hawk" Jackson. "It taught me so much about creating second chances for everyone. We show a lot of grace and create an environment where all can learn and grow," Julius Jackson said.
My Brother's Workshop's 30 plus staff members have put more than 450 young people through their program in 10 years.
"One good thing led to another and the bakery became the platform for the development of a book I've always wanted to do," Jackson said.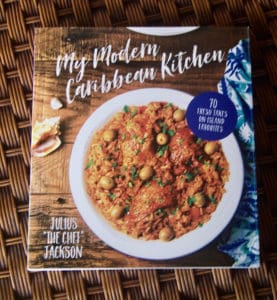 The 176 pages of "My Modern Caribbean Kitchen" are populated with 70 enticing recipes that go beyond delicious. Most of them have been handed down as oral tradition, and it was Jackson's opportunity to make a record of the details to preserve forever.
"My Mama's Banana Fritters, Granny's Potato Stuffing and Jackson Clan Red Pea Soup are not made up names. These were important meals in our house. The problem was that no one ever wrote down the details. 'Throw in some water … get some garlic.' We needed more info!" he said. "So we tested, measured and tasted until it was just as we remembered."
Jackson noted that part of the joy of sharing these instructions is the chance to keep a tradition alive.
"Most people my age don't know how to cook these dishes."
The chapter called "Island Fusion" is notable in that it is a modern take on traditional Caribbean recipes. Here Jackson reaches back to his classic culinary training to put a fresh spin on old favorites, coming up with Kallaloo Pasta, Calabaza and Roast Beef Couscous Salad, and the Breakfast in Bed Focaccia Sandwich.
"I'm often asked about my personal favorites. My stewed chicken is a knockout. I made that on the Cooking Channel. Another that made the book is Sweet and Savory Pumpkin Fritters, made with calabaza pumpkins, so sweet and savory."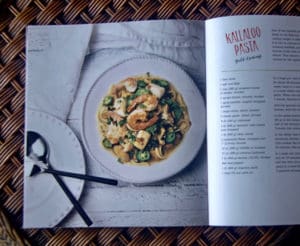 The book has been in the works for just over a year. The first publisher to see the proposal got on board and asked for 70 recipes. Jackson pushed ahead through the power outages and other storm related roadblocks and, thanks to the support of friends and family, most notably wife Nicole, the ingredients were obtained, blended and tested, text was conjured and photographs were taken … all while caring for the young people in the program and turning the bakery into an emergency feeding station that would eventually serve 37,353 hot meals in the aftermath of the hurricanes.
The former Olympic boxer will take a break from prizefighting to do a book tour across America, beginning in New York in August. The V.I. Department of Tourism is in his corner, distributing copies and facilitating his road trip.