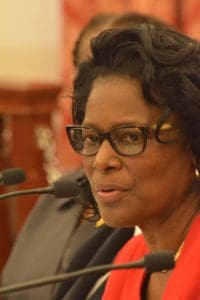 After two Category five hurricanes last fall, V.I. Territorial Emergency Management Agency Director Mona Barnes understood that over the past few days, most people in the territory were tracking the progress of Tropical Storm Beryl like hawks.
While Beryl's path came closer than expected, the impacts once the storm was downgraded from a Category 1 hurricane were minimal. Still, Barnes told the Source Tuesday that her staff, along with the government's "Big 10" first responder agencies were ready to move in case the storm intensified or shifted further, and used the weekend as an "exercise in caution" meant to test their preparedness for the next major disaster.
"We know that going into the 2018 season there is going to be a level of anxiety," she said. "I just want everyone to know that we are working very hard to ensure that all the plans are in place to respond in case there is a significant event, and reviewing lessons learned to make sure we don't make the same mistakes twice."
The Past Week
From the time Beryl formed, Barnes said her team was tracking it.
The timeline started Thursday with regular meetings between VITEMA, the governor, and the Federal Emergency Management Agency's team on island. While the meetings were not always face to face, Barnes said "constant communication" happened up through Saturday, along with conference calls with what she called the "Big 10," including Human Services, Health, Public Works, V.I. Police Department, Property and Procurement, V.I. National Guard, Education and Fire Services.
"As the storm got weaker, we downsized the operation, but we continued to monitor and stay in contact with the National Weather Service," Barnes said. "But, we were prepared to operate our emergency operations center (EOC) and Saturday morning, we had staff from all three islands come in and filter questions from residents who were concerned."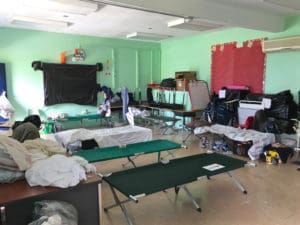 As each agency over the past week continued to give assessments about the staff they had in place and their specific response capabilities, Barnes said an assessment of the territory's shelters was also conducted.
"We are still ensuring that the shelters we have identified have all the resources they need," she said. "In all, 25 sites were inspected, two passed but among that, four or five only needed generators so we are working with FEMA to get them in if necessary."
While Barnes said she understands that "sheltering is a big concern" for residents, she said the territory also has to be realistic about what can be offered in the midst of the still ongoing recovery efforts. If anything above a Category 3 approaches, the government has to think about the "probability or possibility" of evacuating residents, she said.
"We are aggressively working on a solution," Barnes added. "One of the first thing we've asked residents is that if they are still under a blue tarp to see if they can shelter with family or a friend, but if it becomes necessary, we are looking to have some shelters that are ready."
What's in Place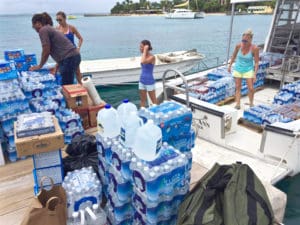 With the passing of Beryl, VITEMA will now be moving into a week of tabletop exercises with its federal partners. There are still more than 400 active FEMA employees on island, and Barnes said drills from Tuesday to Thursday will include the federal incident management team that works side-by-side with her and the V.I. crew during a major hurricane.
Next week, 11 trailers with supplies from FEMA are also expected to touch down in Puerto Rico, with another 11 to follow the week after, full of supplies for Puerto Rico and the USVI. FEMA officials say the agency is in the process of pre-staging a 3 day supply of food and water in the USVI, however Beryl delayed the process.
According to FEMA, pre-positioned supplies and their quantities include:
– 3.6 million meals ready to eat
– 14 million liters of water
– 202,000 tarps
– 74,000 rolls of roof sheeting
– 5,000 cots
– 10,000 blankets
– 630 generators
Before Hurricane Irma made landfall last year, FEMA had 115,200 liters of water and 212,724 meals pre-positioned, according to the agency.
"Even prior to last year's busy hurricane season, FEMA and the territory had been working together to continuously improve the preparedness posture in the Virgin Islands," an agency spokesperson told the Source. "Hurricanes Maria and Irma certainly brought a heightened sense of awareness to the residents of the Virgin Islands and we look forward to being more proactive this year, both individually and collectively, in being ready for anything that heads our way. The unique nature of the territory poses several challenges (geography, infrastructure, distance, etc.) but the federal family, along with the territory and its agencies, have been diligently identifying potential gaps where extra help could be needed."
Barnes added Tuesday that the goal is to have at least seven days' worth of supplies pre-positioned at any given time.
Water and Power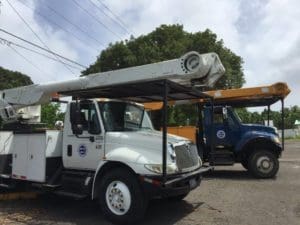 The V.I. Water and Power Authority, meanwhile, was also able to test its response capabilities through Beryl's winds and rain.
According to the authority, feeder outages (two on St. Croix and one on St. Thomas) were caused by impacts to the distribution system. In one instance, tree limbs impacted primary lines and in another primary lines came into contact with each other. In both cases, the feeders tripped to protect themselves from extensive damage.
"All customers on the feeders were restored in about 90 minutes," said WAPA spokesman Jean Greaux. "Across St. Croix Tuesday, about 11 areas reported isolated or pocket outages affecting generally small numbers of customers. All customers were restored by 4 p.m. Tuesday."
Looking at the authority's overall preparedness, Greaux said WAPA is in good shape.
"We revisit our plans monthly during the hurricane season to ensure that all aspects of operations are ready," he explained. "Power plants are in good shape with days of fuel supply, both oil and liquefied propane gas, on hand. The transmission and distribution system is also in a good place as our line department and contractor crews have done extensive permanent work since the completion of the restoration period."
Editor's Note: This has been updated to reflect subsequent FEMA information that goods are prepositioned in Puerto Rico and will be, but are not yet prepositioned in the USVI.