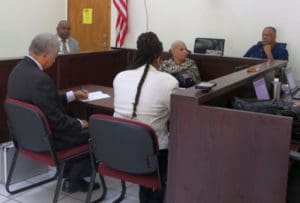 An interim Levelized Energy Adjustment Clause rate passed by Public Services Commission members Friday will go into effect Sunday, adding approximately $16 to customers' monthly electric bills.
According to the V.I. Water and Power Authority, Friday's increase is the first in more than a year. With the approval, the electric LEAC increases from the current 14.36 cents per kilowatt hour to 18.27 cents, which officials said during Friday's PSC meeting on St. Thomas would bring $1.5 million more per month into WAPA's coffers.
Despite heavy concerns from three PSC members about approving an increase without "accurate" data, commission advisors Georgetown Consulting Group pointed out that WAPA's recommended rate should actually be higher, since the price of oil has increased in the month or so since the paperwork was filed.
WAPA initially put in for a rate increase to 18.27 cents in April, citing fuel prices and other variables for that period, but the request was stalled until this week. The authority came Friday with an amended rate request of 17.22 cents, and given the volatility of both fuel and propane prices – WAPA's generators can operate on duel-fuel – since then, Georgetown's Jamshed Maddan said the figure is "probably a little low" and should be approved.
Maddan also pointed out that WAPA's previous filings were based on the operation of certain generating units, many of which he said are not online. Without everything in the mix, WAPA's system is unreliable and an inefficient system burns more fuel, he explained. Maddan's condition was that the PSC push WAPA to comply with previous orders to streamline its generation system, boost efficiency and report regularly on the progress of those efforts.
This suggestion opened a can of worms with commissioners Friday, who spent an hour discussing whether or not to delay a decision until WAPA could update its data. Operating on "inaccurate" stats from April doesn't paint a complete picture, they said, and hasn't detailed what its other issues are as continued blackouts and "glitches" continue to plague the islands.
Nearly an hour and a half into the discussion, PSC commissioner David Hughes proposed the discussion be delayed another month so that WAPA and Georgetown could address issues relating to a dispatch plan, the price of fuel and line loss concerns that WAPA also cited in its filing.
Hughes was the only one that voted in favor of the proposal, however. Instead, the PSC ended up going back to, and approving, WAPA's original interim rate of 18.27-cents, which will remain in effect until December.
Immediately following the vote, Hughes received support on a motion that requires WAPA to base all future LEAC filings on the price of liquefied propane gas, which commissioners said is consistent with and pushes WAPA to stick to plans to switch to LPG.
In a related issue, Hughes also pushed for WAPA to take a hard look at its generation system. As part of its integrated resource plan, WAPA has moved to replace its current fleet with smaller, higher efficiency generators. The first three generators, with a total capacity of 21 megawatts, are expected to ship to St. Thomas in August, and Hughes proposed that they be counted – starting January 2019 – as WAPA's primary source of generation on St. Thomas, and the base for subsequent electric LEAC rates.