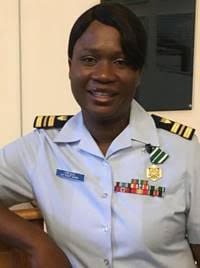 U.S. Coast Guard Lt. Biann Creque, a 1999 graduate of Charlotte Amalie High School, St. Thomas, U.S. Virgin Islands, was promoted to the rank of lieutenant commander (Lt. Cmdr.) at the U.S. Coast Guard Headquarters, Washington, D.C.
She is currently in transit to her new assignment as the Coast Guard Atlantic Area Command, Control, Communications, Computers and Information Technology (C4&IT) operational branch chief. Her previous military assignments include Coast Guard Headquarters' Office of Command, Control, Communications, Computers, Cyber, and Intelligence (C5I) Capabilities, Washington, D.C.; Operations Bahamas, Turks and Caicos (OPBAT), a cooperative drug interdiction operation at the U.S. Embassy Nassau, Bahamas; Command, Control and Communications Center Portsmouth, Virginia; Officer Candidate School New London, Connecticut; and as an operations specialist enlisted petty officer at Sector Miami Command Center, Florida.
Lt. Cmdr. Creque joined the Coast Guard in July of 2005. Her advice for students is to follow their dreams and never be afraid to try something new or different for fear of failure; it is a part of life. If you don't fail, you don't learn and if you don't learn, you'll never change.
She is a distinguished graduate of Old Dominion University with a Master of Science in Computer Science with a minor in Computer Information Systems. She also holds a Master of Science in Quality System Management from the National Graduate School and a Bachelor of Science in Computer Information Systems from DeVry University. Her certifications include: Project Management Professional (PMP) and Lean Six Sigma Green Belt.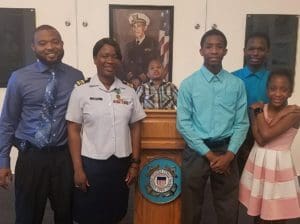 Her husband, Kishawn; children: Kishawn Jr., Joshua, Brandon and Brianna; parents: Peter and Ianthie Julion; siblings: Barbara and Alphonse; friends; and shipmates were present at her promotion and award ceremony.
Lt. Cmdr. Creque's personal awards include the Coast Guard Commendation Medal, the Coast Guard Achievement Medal and the Commandant's Letter of Commendation.