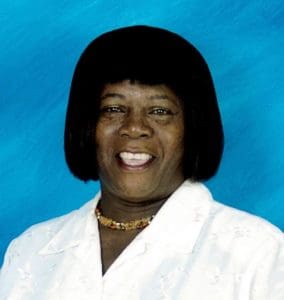 Rosina Verna Viviana Lewis of Estate Strawberry died on Friday, June 1. She was 62 years old.
She was preceded in death by her father, Zephenol "Rannie" Ralph; sister, Agren "Cindy" Ralph Joseph.; and niece: Abijah Ralph.
She is survived by her husband, Carston Lewis; mother, Ena Ralph; father, Zephenol "Rannie" Ralph; daughters: Raquel Appleton and Shari Lewis; grandchild, Jemar Browne; brothers: Foster Ralph, Swenworth Ralph, Denroy "Kaya" Ralph and Anselm "Bolie" Ralph; sister, Algean "Jeanie" Ralph-Simon; nephews: Kenrick Ralph, Ricky Ralph Skepple, Taffan Joseph, Dumar Ralph and Denar Ralph; nieces: Linda Ralph Pilgrim, Kerri Ralph, Sanya Joseph, Carrisa Simon, Jehoshua Ralph, Athalia Ralph, Hannah Ralph and Kyann Ralph; and great nephews: Raquan Ralph, Vanrick Skepple, Omarian Joseph, A'More Joseph and Kamry Mason.
She is also survived by great nieces: Unity Pilgrim, Melody Pilgrim and Talia Arrington; uncle, Edgar Joseph (St. Kitts); aunts: Christebelle "Jippy" Richards (N.Y.), Rosina "Rose" Warner (ANU) and Aramintha Ralph; brothers-in-law: Wesley Simon, Alden Lewis (ANU), George Lewis (N.Y.) and Samuel Lewis (England); sisters-in-law: Patricia George-Ralph (N.Y.), Sadie Ralph, Karen Ralph, Tina Davis (ANU) and Ruth Gabriel (N.Y.); godparents: Kate Miller and Avril Evanson; and godchildren: Iwandy Andrew and Jason Jeffrey.
Other survivors include special friends: Olivet Pentecostal Church Family (ANU), All Saints Nazarene Church Family (ANU), First Assembly of God Church Family (Christiansted), Central Church of the Nazarene Church family and Prayer Group, Frederiksted and Christiansted Nazarene Church Family, Anthony Harley and family, Albert James, Doris Morton, Edith Matthew and gamily, Lesroy Marsh and family, Hilroy Burton, Sylvia Charles, Edna Caines (St. Croix), officials and former co-workers of the Ministry of Tourism as well as many employees at the V.C. Bird International Airport, longtime friends and neighbors from Green Hill, and Liberta (ANU).
And more survivors include cousins: Bernice Peters, Brenda Knight, Linroy Baltimore, Bernard Adams, Albert Adams (N.Y.), Amita Samuel, Dorothy Heath, Veronica Yvonne, Liston, Ira, Vernon, Rolston and Alexander Richards (N.Y.), Josephine Acklin (St. Croix), Blandina Jackson, Ruthlyn Joseph, Ianthie James, Hyacinth Thomas, Vermalyn, Dave, Amberzine, Romanita, Vella, Clovis, Denley and Argentina Ralph (ANU), Donica Jackson, Kevin, Liston, Isaac and George Joseph (St. Kitts), Iona Barton and family, Verona Marsh, Victoreen Hazelwood, Geraldine Davis and family, Lauren Simon, Janice Isaac, Glendora Richards, Genevieve Ralph and family; as well as many other relatives and friends too numerous to mention.
Special thanks go to Pastor Joscelyn and Rev. Sandra Martin (ANU), Pastor Anthony and Rev. Agnes Devlugt (St. Croix), Sadie Ralph, Elaine Isaac, Julia Nathaniel and family, Althea Ralph, Sherwin Weekes (Barbados), Rev Dr. Scoffield Eversley (Barbados) and all those who have extended support and encouragement in so many ways. May the Lord bless you and keep you.
There will be a viewing at 10 a.m. and a funeral service at 11 a.m., Saturday, June 23, at the Central Church of Nazareen. Interment will be at Kingshill Cemetery.