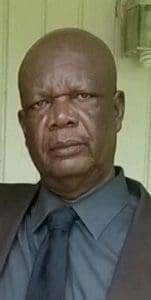 Rupert Celestine, also known as "Per-Toe" or "Sugar," of Mount Pleasant died on May 23. He was 73 years old.
He is survived by his wife, Elsa Celestine; daughter, Rhonda Smith; grandchildren: Tyrese, Antoine and Brianna Smith; sisters: Anastasia Pearl Polo and Claudette Neptune; brother, Gregory Celestine; nieces: Annalee Polo, Ingrid Polo-Dariah, Tracy Celestine and Selma Celestine; nephews: Allison Neptune, Steve Celestine and Damian Celestine; great nieces and nephews too numerous to mention; son-in-law, Ian Smith; and brothers-in-law: Hubert Polo and James Philbert.
He is also survived by sisters-in-law: Christine Daniel, Tessa Felix, and Therese Celestine; special friends: Raymond and Ann St. Hillaire, Nevia Roberts, the workers of Tropical Cleaners, Beverly, Pastor Kettley, Jefferson and the Southside Pentecostal family; cousins and other relatives: special cousin Desmond Celestine, and friends and family of Mama Cannes Grenada; as well as other relatives and friends too numerous to mention.
The viewing will begin at 9 a.m. followed by funeral services at 10 a.m., Saturday, June 23, at the Southside Pentecostal Church. Interment will be at Kingshill Cemetery.