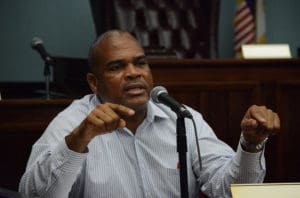 The property lease problem in Sub Base would not be a problem if the property were on St. Croix instead of St. Thomas, according to Vincent Richards, deputy commissioner of the Department of Property and Procurement.
Richards addressed the dueling lease offers Wednesday at a meeting of the  Senate Finance Committee.
Two businesses want to lease the same property in Sub Base. The property, two small parcels at 50 and 51A Sub Base, is occupied by Black and Green, a trucking company. The company owned by Phyllis Blackman Green, was given a lease, specified as temporary, over two years ago. At that time Property and Procurement was already in discussion with Industrious Auto Repair, which wanted a long-term lease of the 42,000-square-foot property. Industrious is situated on an adjacent plot. It plans to expand opening an auto parts store.
Julian Industrious, general manager at Industrious, told senators he has been working to expand for 14 years. His company promises in a proposed lease agreement to make permanent improvements to the parcels.
However, Green said in written testimony read by her mother Eleanor, being forced to move from the property would "greatly diminish" the chance of her business remaining successful. She said other properties shown to her by Richards as a possible new location were inappropriate.
Richards admitted that good property sites owned by the government on St. Thomas were at a premium.
"If she were located on St. Croix I could give her property where she could build an airport," he said.
Richards produced a letter from Property and Procurement when the lease with Green was initiated saying the lease was temporary.
Industrious told the senators his business needs to grow to survive.
"The purpose we are seeking this lease is that in order to survive in the current economic climate we need to expand to effectively compete in the automotive aftermarket marketplace," he said.
He added that Industrious has been operating for 42 years.
Senators appeared reluctant to decide which of two businesses to give the lease to. Sen Dwayne DeGraff said he thought it unfair to make Black and Green move as "they are on the property and are paying rent."
Sen. Brian Smith said, "We should find a fix where we don't crush one person's livelihood or stop another business from expanding."
There was discussion of the condition of the property. Industrious said, "I don't want to walk within 10 feet of that property. It is a dump."
Green acknowledged the property had once been used as a dump and there was still material on the property they had not yet been able to dispose of. However, she added the property had been cleaned up some and said, "We have done everything we could."
The proposed long-term lease to Industrious presented to the committee is for $28,000 annually. Industrious would commit to $170,000 worth of improvement to the property. The improvements would include landscaping and drainage, demolition to the interior of the building on the property and upgrading plumbing, electrical service and exterior lighting. The 20-year lease agreement needs approval from the senate before going to Gov. Kenneth Mapp.
It did not move forward on Wednesday.
Committee chairman Kurt Vialet asked for documentation showing how the property has been historically used. He said, when the documentation is submitted, the committee will convene to make a decision. He said he hoped the two businesses in the meantime would discuss the situation and come to an agreement.
The Division of Property administers more than 169 leases with rent royalties valued over $1.3 million, according to its website.