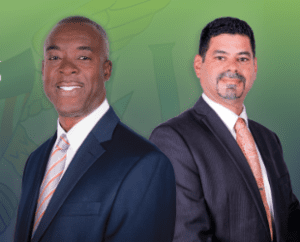 Dear Fellow Virgin Islanders:
We have an incredibly important election ahead of us this year to determine who our next Governor and Lieutenant Governor will be. It is an election of great importance not just because of who will govern our islands for the next four years but also who will manage the added responsibility of rebuilding our islands from the devastation of Hurricanes Irma and Maria. This may very well be the most important Gubernatorial Election in a generation.
With this is in mind, my running mate, Senator Sammuel "Sammy" Sanes, and I are proud to officially release our 2018 Campaign Platform to the Virgin Islands public, for your review and comment.
A great amount of time and work went into developing this 2018 Campaign Platform, but Senator Sanes and I agree that this is a "living breathing document" and we will be on radio and holding events on all our islands to discuss this platform because we want to hear directly from you, the Virgin Islands people. Not just to hear how we want to see our islands rebuilt, but also to hear about what you are looking for, and expecting from, your government. That is because we truly believe that it is time that we get back to a government that puts the people of the Virgin Islands first. Time to get back to a government that puts you first!
The unifying theme throughout the Petrus/Sanes Campaign Platform and the administration that we plan to build is giving you back a government that serves all the people of our Islands. From day one, we will tackle the budget deficit, work to boost our students' test scores, and support our veterans and military families. We will set about the task of putting our territory and its families on sound footing, not just because we as a team have the skills and desires to do so, but because it's the right thing to do. And because we can't wait any longer. We are all Virgin Islanders, and we are all in this together.
This is the time for the Virgin Islands to move forward and to restore its people's faith in a government that has too often in recent years seemed opaque and remote. We want to earn back that faith, and we ask you to join us as we work towards delivering you A Government That Works for YOU!
Allie Petrus, Democratic candidate for Governor
Sammuel Sanes, Democratic candidate for Lieutenant Governor
http://votepetrussanes.com/platform/