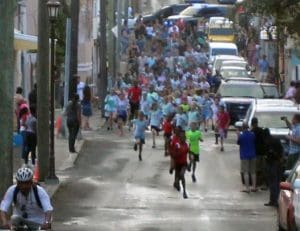 Since 1988 there has been a footrace from "Tymes Square," formally known as Sunday Market Square, down King Street to the Scale House of the Christiansted National Historic Site. The event was established so that local athletes and visiting triathletes could share the spirit of competition in an event staged on the actual route to the finish line of the triathlon.
It was first called "The King St. Dash," according to Wallace Williams, event originator and founder of The Virgin Islands Pace Runners, which is celebrating its 40th anniversary. In 1998, the run was re-established and open to children 13 and under only and named "The Children Run Christiansted." To make it more exciting, the annual Triathlon Jump-up festivity made it a feature of the popular town party, and over the past few years, it has also become a "Color Run."
Nearly 200 boys and girls toed the start line for the 20th annual edition of the Children Run Christiansted. All of them were winners, receiving a special race medal as they crossed the finish line for the 530-meter run. Michelle Smith of the St. Croix Track Club and the Eulalie Rivera Elementary School in 1:36 and Kaedon Gleason of Good Hope Country Day School in 1:41 led them to the finish line.
The next event on the V.I.Pace Runners calendar is the annual Memorial Day 2-Mile Road Race scheduled for 6 a.m., Monday, May 28, from Beeston Hill to the Bypass overlook.
For more information, logon to: http://virginislandspace.org or call: 643-2557 or email: [email protected]