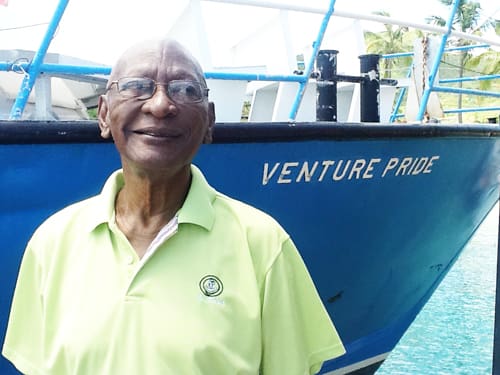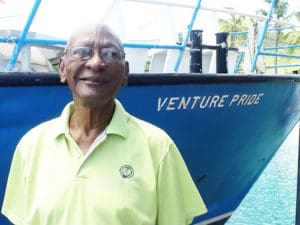 Rodney "Chief" Varlack, took center stage Friday, April 20, at the Cleone Henrietta Creque Legislative Conference Room on St. John as members of the 32nd Legislature, led by Sen. Myron Jackson, hosted a Perma Plaque Ceremony in honor of his outstanding contributions to the Virgin Islands.
"It is a pleasure to be here this morning. Perma plaque ceremonies have not occurred in several years.  This is one of a series of Perma Plaque Awards honoring our own and their contributions to the territory for its cultural, social and economic development. Varlack has made a mark on our economy and the milestone anniversary of historic Cruz Bay at this Perma Plaque Ceremony at the St. John Legislature," said Senate President Jackson.
Resolution No. 1832 (Bill No. 31-0311) honored Rodney "Chief" Varlack for his visionary entrepreneurship over the decades. His businesses include inter-island transport; safari taxi buses, island tours, school buses, wrecker and towing services, welding, and sea and mail transportation.
Lawmakers shared their remarks.
"Varlack  is a pillar of this community because without his hard work and discipline St. John would not have made it this far. He is a great man. Without him the young black people would not have an opportunity to become captains," said Sen. Brian Smith.
Sen. Dwayne DeGraff stated that Varlack has encouraged him to follow his dreams and make a positive change in the community.
Separately, the Town of Cruz Bay was also recognized and honored.
Act 7942- (Bill No. 31-0449) – Commemorates the 250th anniversary of the founding of the town of Cruz Bay, celebrates its longevity, and honors the distinct African-Caribbean traditions and lifeways which make up St. John's identity.
Soulful renditions of the anthems were sung by Shakima Jones; musical selections were performed by Gylchris Sprauve and N'Harmony. Rev. Carlyle Sampson of the Nazareth Lutheran Church conducted the invocation and benediction. A poem was recited by Gayle Varlack.
Senators present were Myron Jackson, Tregenza Roach, Brian Smith, and Jean Forde, as well as former senators Almando and Cleone Henrietta Creque "Rocky" Liburd.