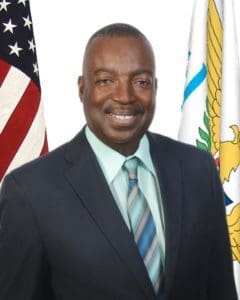 The "Hurricane Insurance Fact Sheet" and "How to Avoid Being Underinsured" brochures, which are two crucial public education documents distributed by the Office of the Lieutenant Governor, Division of Banking, Insurance and Financial Regulation, are now available in Spanish in hardcopy and online.
"The U.S. Virgin Islands has a large Hispanic population. It is very important that we make our residential property hurricane insurance public education materials available in Spanish to meet the needs of Hispanic property owners in the territory. We have now made sure information on how to prepare for the hurricane season is in English and Spanish, which are the languages spoken and understood by the majority of Virgin Islanders. Therefore, the Division of Banking, Insurance and Financial Regulation now has these two publications available for distribution in English and Spanish," said Lt. Gov. Osbert E. Potter.
Other banking, insurance and financial services materials are available in English on the Division's website at www.ltg.gov.vi. The public is encouraged to visit the website to read the glossary of insurance terms, bulletins and orders on significant insurance topics, recently passed legislation, and licensing requirements for insurance companies, brokers, agents and adjusters.
Customers who require additional assistance should visit the Division at Nisky Center 2nd floor on St. Thomas (774-7166) or 1131 King Street, 3rd floor on St. Croix (773-6459).