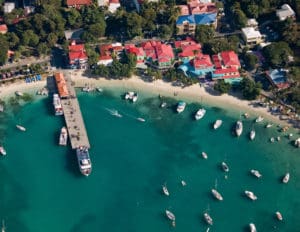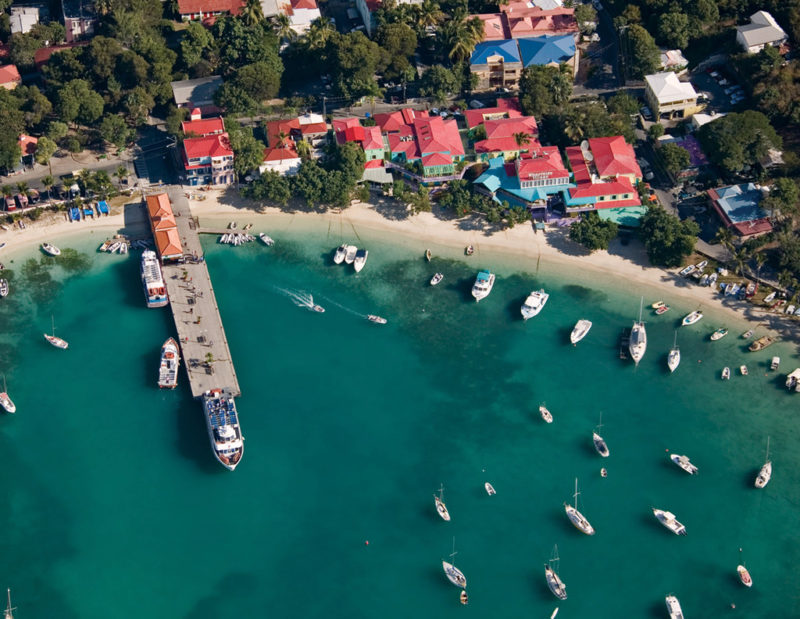 During its April 4 session, senators approved rezoning Wharfside Village in Cruz Bay to bring its existing jewelry stores and other businesses into compliance with current zoning laws.
The rezoning changes Parcel No. 4-A Estate Cruz Bay Town, Cruz Bay Quarter, St. John, from B-3 (Business-Scattered) to B2 (Business-Secondary/Neighborhood).
WVJD LLC, the company organized by Wharfside's owner Joe DeCourcy, applied for a zoning change for the property in April 2017. In a letter to Senate President Myron Jackson that accompanied the rezoning application, DeCourcy wrote that the application was not submitted as part of any plan to further develop the property beyond existing uses, which include dining, gaming, retail shops, and residential rental units.
The shopping center in Cruz Bay that is most comparable in size to Wharfside, Mongoose Junction, has a B-2 zoning designation, which is meant for shopping centers immediately adjacent to primary business areas. A B-3, Wharfside's current designation, is meant for smaller retail business that primarily serve the residential districts in which they are located. WWJD LLC has been the owner of the property since 2016.
Fourteen senators voted for the rezoning with Sen. Tregenza Roach (I-STT) voting no.
Senators also approved:
– Minor Coastal Zone Permit No. CZJ-20-11W issued to David McDaniel and Cheryl McDaniel to use a 153 square foot floating dock from November through May, seaward of Parcel No. 200-C-2A Estate Fish Bay, St. John;
– Major Coastal Zone Permit No. CZT-2-16 (L&W) issued to DUN RUN GOLF, LLC, for the continued use and occupancy of the existing reverse osmosis plant with 12" diameter, 140 feet intake line and 12-inch, 650 feet long outfall line located at Plot No. C-2-Q Estate Lovenlund, St. Thomas;
– A spot-rezoning of Parcel No. 13AA Estate Contant, No. 2 Cruz Bay Quarter St. John from R-2 (Residential-Low Density-One and Two Family) to R-4 (Residential-Medium Density). The purpose of the request if to develop six one-bedroom dwelling units for long-term affordable housing for island residents.
– A zoning use variance for Parcel No. 171 Estate Contant-Enighed, Cruz Bay, St. John Virgin Islands, to allow Roberto Penha to operate a car rental business.