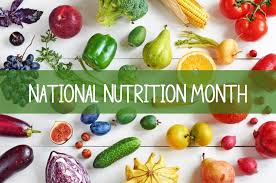 March is National Nutrition month, and this year's theme is "Go Further with Food." Good nutrition is critical to preventing obesity, a big problem in the U.S. Virgin Islands, according to the Centers for Disease Control and Prevention (CDC). In the V.I., 33 percent of adults are obese. Among children enrolled in WIC, 12 percent are obese. Since obesity can lead to many health problems — including high blood pressure, high cholesterol, and diabetes — helping Virgin Islanders reduce obesity through healthy eating is a top priority for the V.I. Department of Health (DOH).
To promote good nutrition, DOH has been sharing ways to "Go Further with Food" on social media. In addition, throughout the month at each of DOH's five WIC clinics, counselors have been showing busy moms how to prepare nutritious food at low cost. Since children with obesity are likely to grow into adults with obesity, teaching moms about good nutrition is especially important.
While it's ideal to start early, kids and adults at every stage of life can benefit from good nutrition. DOH recommends Virgin Islanders take the following steps towards a healthful diet.
Eat a variety of healthful foods from all the food groups on a regular basis.
Substitute no calorie or low-calorie drinks for sugar sweetened beverages, cutting about 650 calories.
Consider foods on-hand before buying more at the store.
Buy only what you can eat or freeze within a few days. Plan ways to use leftovers later in the week.
Be mindful of portion sizes. One way to do this is to avoid putting serving dishes on the table.
For more information, visit https://www.choosemyplate.gov/.