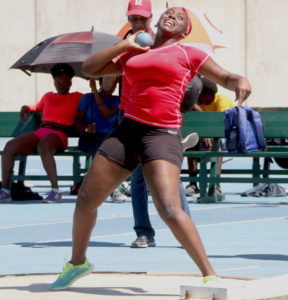 The St. Croix Track Club Mustangs are thankful for the efforts of the coaches and athletes who traveled to Roadtown, Tortola, on March 10 to compete in developmental Track and Field Meet No. 6.
Participating teams: Ambassadors Throwing Club, Cheetah's Track Club, Fast Lane Track Club, Raw Skillz Track Club, Sprint Tech Track Club, St. Croix Track Club, Top Notch Track Club, Unattached and University of Virgin Islands. Athletes competing for St. Croix Track Club were Ariana Edgar, Akyra Joseph and Michelle Smith. Their times and finishing places are:
Ariana Edgar 1st Place – Shot Put: 11.18m
Ariana Edgar 2nd Place – Discus: 22.23m
Michelle Smith 1st Place – 300m: 45.71
Michelle Smith 1st Place – 200m: 29.85
Akyra Joseph 5ft Place – 300m: 49.50
Akyra Joseph 3rd Place – 300m: 31.08
The athletes continue to sharpen their skills and look forward to the opportunity to compete. They are working hard to improve their form and develop a competitive edge both home and abroad. For instance, Ariana Edgar is preparing to compete at the 47th Annual Carifta Games in the shot put on March 31.
St. Croix Track Club thanks the sponsors who help all this to be possible.
For full results, contact BVIAA General Secretary: [email protected]
For more details or inquiries, contact Coach Keith Smith at 277-1123.