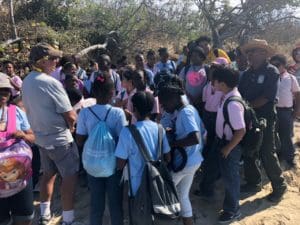 Project Promise, in conjunction with the National Park Service (NPS), was selected for a third time to receive a 2017 field trip grant from the National Park Foundation (NPF), the official charity of America's national parks. This grant, part of NPF's Open Out Doors for Kids program, supports Every Kid in a Park (EKIAP).
Project Promise kicked off its 2018 EKIAP program recently when local 4th graders were given the opportunity to visit and learn about the incredible history of the Salt River Bay National Historical Park and Ecological Preserve. Designed by Resa O'Reilly, Project Promise president, it's a three-point program that includes an introduction to the park at the school, followed by an on-site park tour and jewelry-making session, and concluding with a post-experience, in-class visit by the instructor to review what was learned.
"Due to the damages sustained at the Salt River Bay Visitor Center, there was some doubt as to whether or not we would be able to host the EKIAP program this year," said Resa O'Reilly. "But despite the challenges that we faced, I'm so pleased that we found a way forward."
Project Promise has managed the EKIAP grant and implemented the program for several years. Since the 2014 school year, Project Promise in collaboration with NPS, has hosted more than 1,400 public school students. The program was formerly called the "Ticket to Ride" program.
This year, the students' activities will be split between two sites because of the structural damages sustained at Salt River's Visitor Center. The jewelry making will be conducted at the Christiansted National Historic Site; then the students will be bussed to Salt River Bay National Historical Park and Ecological Preserve for the nature hike part of the program.
"I can still remember the excitement of exploring my first national park as a kid and it made me want to discover more," said Will Shafroth, National Park Foundation president. "I'm thrilled that our National Park Foundation grants make it possible for hundreds of thousands of kids to experience the wonder of parks for the first time, sparking a lifelong love for national parks."
About Project Promise
Project Promise is a 501(c)(3) non-profit organization dedicated to improving the lives of at-risk youth on St. Croix by providing empowerment initiatives, cultural programs and family services. To learn more about Project Promise, visit the website at www.projectpromisevi.com. For more information about EKIAP, or other Project Promise programs, contact Resa O'Reilly at 513-0446.