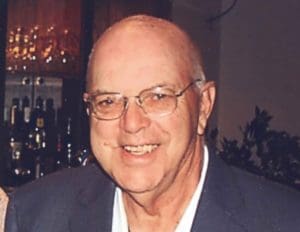 Joseph E. Stover, local businessman and entrepreneur, of Frederick, Maryland, died peacefully in his sleep on March 5. He was born to the late Wilbur Stover and Naomi Stup Stover of New Midway, Md., on June 3, 1940. He was 77 years old.
A lifelong resident of Frederick County Maryland, Joe was a proud graduate of the Walkersville High School Class of 1958, where he was a star member of the men's basketball team before attending Shepherd University. Joe was a long-standing member of the Glade Valley Lions Club, serving a term as its president in the early 1980s. He was a passionate and avid golfer, scoring multiple holes in one during his membership at the Holly Hills Country Club.
As a third-generation brick and stone mason, Joe founded his first company in 1976 and many of the buildings, homes and fireplaces in Frederick County were built by his hardworking hands. In 1978, he and his wife Becky began another business, Stover Hearth & Patio on Route 40 West in Frederick, which is still operated by the Stover family today. Through the ensuing years, they built and continue to manage additional commercial properties in Frederick and Washington County.
Joseph Stover is survived by his loving wife of 52 years, Rebecca Haley Stover. The couple spent their lives in Frederick raising a family and enjoying the laughter and company of many friends and family. In their later years, they would spend winters in their home on the island of St. Croix, V.I., seeking the warmth and yearlong golf the island offered.
In addition to his beloved wife Becky, Joe is survived by his daughter, Jacqueline Stover of Frederick, Md. and St. Croix; son, Christopher Stover and wife Christie of Myersville, Md.; grandchildren: Catherine Stover and Alexander Stover, both of Myersville, Md.; sisters: Linda Parker and Susan Welsh; and numerous nieces and nephews.
He was preceded in death by his brothers: Charles and Robert Stover; and sisters: Elaine Cooper and Helen Kaufman.
The family will receive friends from 1-2 p.m. on Sunday, March 11, at Stauffer Funeral Home, 1621 Oppossumtown Pike, Frederick, Maryland. A Celebration of Life will begin at 2 p.m. at the funeral home. The Reverend Tim May will officiate.
In lieu of flowers, the family requests contributions be made to the Michael J. Fox Foundation for Parkinson's Research, P.O. Box 5014, Hagerstown, MD 21741 or directly at www.michaeljfox.org
Arrangements have been entrusted to Stauffer Funeral Homes, P.A. Frederick. Expressions of sympathy may be shared with the family at www.staufferfuneralhome.com