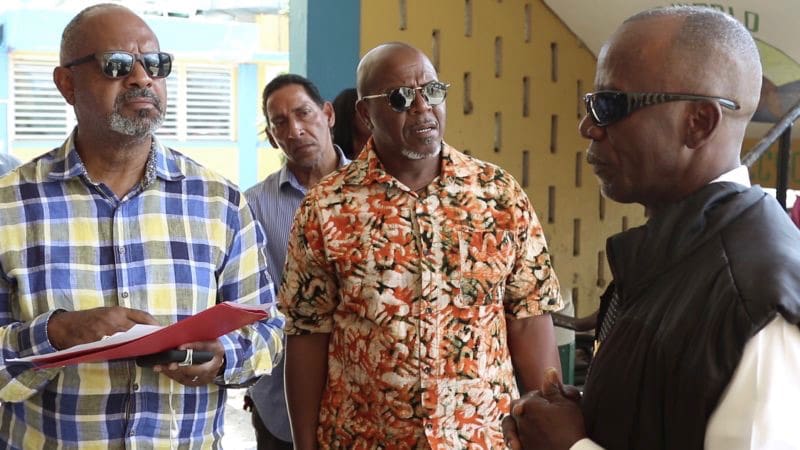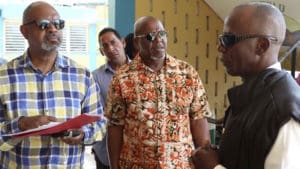 Senators touring public schools Wednesday saw firsthand the damage wrought by September's hurricanes. While all expressed concern about the state of the buildings, many also saw it as an opportunity to rebuild "better learning environments" for students.
Led by Sen. Jean Forde, members from the Senate's Committee on Education, Youth and Recreation stopped at Ulla F. Muller, Gladys Abraham, Joseph Gomez, Yvonne Milliner-Bowsky and E. Benjamin Oliver elementary schools, and Addeliata Cancryn Junior High, Charlotte Amalie High School and Ivanna Eudora Kean High.
In some spaces, such as Muller, school was in session, but for many the doors remain shut because of damage from the hurricanes.
At Muller, principal Symra Dee Brown said that eight or nine modular units were expected to arrive in August to replace areas such as the library, and some buildings, such as one donated to the school in the late 1950s, were deemed to be structurally unsound. That building houses the school's computer lab, among other things, and Brown said she's moved students to the bottom floor for classes, just in case.
Muller is one of the schools slated for "permanent repairs," according to Education officials, who added that a Request for Proposals for construction would be issued toward the end of March, with construction ongoing after students dismiss for the summer.
Nearby, at Cancryn, however, the picture was vastly different. Instead of students running around, the campus was barren except for a few workers and the fleet of electrical trucks that have been housed in the parking lot. Education Department Chief of Staff Anthony Thomas said the school has been condemned and that the end goal, instead of repairing or replacing, would be to demolish all the buildings.
The government has the opportunity, in this case, to take advantage of the Federal Emergency Management Agency to evaluate the need for repairs. Once a school is found to be 50 percent damaged it can be replaced, Thomas said.
In the case of Cancryn, the school was built in a flood zone and simply raising the campus so it's more out of the way is not cost effective, he said.
Gladys Abraham, down the road, is facing similar flooding issues, but principal Michelle Rogers-Bully said only a few of the buildings were found to be "structurally unsound." This includes the school's auditorium, which on Wednesday was muddy, moldy and without windows, among other things.
"The auditorium was flooded completely and the water went into the hallway," Rogers-Bully said. "Also, in the back, there is a gutter that overflowed so water was then coming in from the hallway and running through the office and library – and that was after Irma, when we had all the rain."
The school is closed to students, but Thomas said because the entire plant wasn't found to be unsafe, Abraham is also slated for permanent repairs.
The district's two high schools, CAHS and Kean, fared better, but are still operating in split sessions, with students leaving mid-day. Acting Cancryn principal Judy King-Edmeade is one of many administrators working at CAHS throughout the day and, though the school is up and running despite the damage, her concern is whether the students are getting the education they need when they only have a few hours of school each day.
"We're making lemons out of lemonade," King-Edmeade told senators on tour Wednesday. "We have an awesome staff that's making sure the young people are learning despite the circumstances, but our problem is that our young people aren't going home and studying. If they're leaving mid-day or coming in mid-day, we don't know how much studying is going on because they are free for such long periods of time and we really need our parents to tighten up at home."
In between stops, senators said they shared similar concerns but still saw an opportunity to "build back better."
The governor has already announced plans for six new schools and even on campuses with major repairs, thinking about how students learn best can help guide the rebuilding process, they said.
"We can see our schools are not ideal for stimulating learning and we have the opportunity in some cases to retrofit and in others to rebuild, which we have been talking about for decades," Senate President Myron Jackson said. "Cancryn, for example, has outlived its worthiness as an institution of learning and even Gladys Abraham, which is concrete, there are ways that in our restoration we can improve the physical plant by modernizing."
Sen. Jean Forde, chairman of the Senate's Education Committee, added that in the interim the government also can do a better job of cleaning the campuses instead of letting them sit.
"We're seeing that many school buildings are dirty or wet, and there are things hanging like lights or air conditioning units," Forde said. "I have no objection to relocating a school, but there is still some value in what's left and some of the schools can still be used, whether for offices or something else. We have to do a better job of making sure we protect the government's assets."