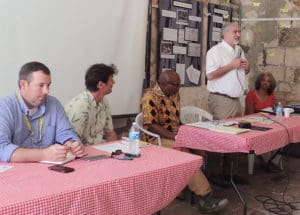 The Federal Emergency Management Agency is surveying cultural sites in the U.S. Virgin Islands to help develop long-term recovery plans.
Stewards of historic buildings, artifacts and documents gathered at Whim Museum Saturday to learn about disaster aid from the federal government and the Smithsonian Institution.
The Virgin Islands Cultural Recovery Summit was attended by about 30 guardians of culture along with representatives from FEMA, the U.S. Department of the Interior and the worlds largest museum, education and research center based in Washington D.C. A similar event was held on St. Thomas on Friday.
Michael Foley of FEMA said the federal agency plans to update building codes, remap risk zones on all four Virgin Islands, and help islanders rebuild. He said there will be help for cultural resources through the 404 and 406 programs.
"The first specific objective is to do mitigation for cultural resources," he told Saturday's assemblage.
DOI's Gary Hughes introduced three archeologists, deployed to St. Croix, who will complete a list of St. Croix historic properties and begin to plan how to prepare for long-term recovery and the upcoming hurricane season. Another team of conservations specialists will arrive in March to work on preserving paper documents. There will be teams doing the same work on St. Thomas/St. John.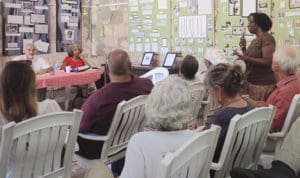 "Our role is to compliment FEMA. The Department of the Interior fills the gaps where FEMA funding is not meeting needs," he added.
Richard Kurin, Smithsonian distinguished scholar and ambassador-at-large, first gave a some history of the institution's work in disaster areas, such as Iraq, Syria, Mali and Egypt. After Haiti's earthquake, 70 employees and volunteers were sent to the country and eventually saved 35,000 artifacts – "the cultural DNA for the future generations," he said. The Smithsonian provides "boots on the ground" in disaster areas, including training, supplies, equipment and helps organizations craft their disaster plans.
– Cultural resource damage on St. Croix
St. Croix Landmarks
Executive director Sonia Jacobs Dow reported the Whim Great House sustained extensive roof damage and the interior walls and antique furniture were water soaked. Joan Felix said the library's data and archives are safe despite structural damage.
Dow, Felix and others said a list of contractors, subcontractors and mold cleaners is desperately needed because without estimates, they cannot meet March 15 application deadlines for federal money to rebuild.
Fort Frederick and coastal sites
David Brewer, state historic preservation officer and territorial archeologist, said damage to the fort has been assessed at more than $250,000, so far. Otherwise, most of St. Croix's inland sites fared pretty well.
However, the coastal sites "suffered catastrophic damage," he said. Waterfront burial and archeological sites near Sandy Point, Ha'Penny Beach and Great Pond were compromised by wind and sea. The LaGrange gut and Lagoon burial sites also were damaged.
The territory's artifacts collections are being stored at safe locations in cardboard boxes but need to be protected in a Virgin Islands museum, Brewer said.
Crucian Heritage And Nature Tourism
Director Frandelle Gerard moved to St. Paul's Anglican Church after the hurricanes damaged their office on Strand Street. She, and others, said it is almost impossible to access websites and apply for hurricane relief because internet service is not dependable.
Caribbean Museum Center for the Arts
Founder Candia Atwater said the historic building on Strand Street and their records survived the two storms but they need help mitigating mold, wet walls and floors and preserving art and documents.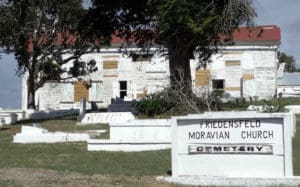 Friedensfeld Moravian Church
Christopher Frederick said the Friedensfeld Moravian Church in Estate Glynn had "lots of damage" and services have been suspended. Architect William Taylor said the structure is "an architectural gem" and should be repaired.
United Caribbean Association
Although the list was not available, VITEMA reportedly has begun listing historic buildings throughout the territory, but did not include, so far, most structures in Frederiksted town, according to Yulette George. She said UCA, a non-profit organization and resource center in Frederiksted, lost most of its roof. Volunteers installed a temporary fix and they have applied to FEMA and SBA for help. So far, there has been no response from the government, she said.
According to Cori Wegener, cultural heritage preservation officer with the Smithsonian, a team of conservators will arrive shortly to help the territory. She said Puerto Rico has already formed a coalition of organizations that meets weekly to plan how to protect art and culture and apply for grants that benefit them all. She recommended the Virgin Islands do the same to maximize federal funding.
Senate President Myron Jackson agreed and told the stakeholders to meet and agree on grants, since funding is limited. He stressed the importance of preserving cultural resources and building a protocol by identifying historic structures and records and planning for the future.
"We're behind, but not all is lost," Jackson said. "If we don't do it you can consider it lost."