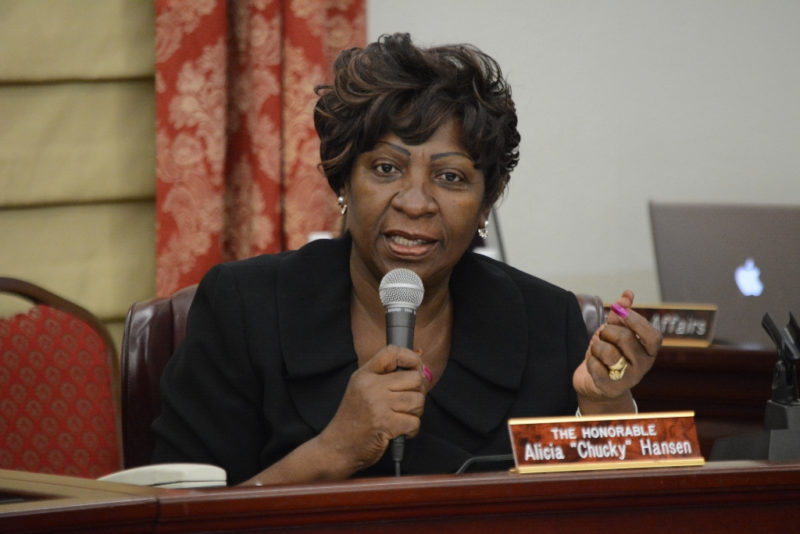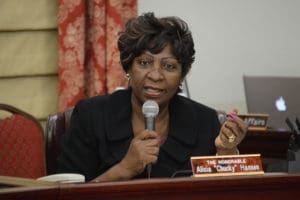 Here is a logic problem for Sen. Alicia "Chucky" Hansen (I-STX): If the Water and Power Authority has X dollars to pay linemen but you fought for decades to cut WAPA's funding, do you get to scream and shout that WAPA should pay those linemen more?
(Hint: The answer is yes, because what Chucky says does not have to make any sense.)
At a legislative hearing last week, Hansen spent most of her time with the microphone yelling at WAPA's Acting Executive Director Clinton Hedrington, pretending the career WAPA employee disdains WAPA employees for accurately saying they get less training than some of the stateside linemen sent to help with restoring power.
To be fair, Sen. Positive Nelson (ICM-STX) first raised the question of whether WAPA employees should get a special bump in pay for working after the hurricanes. Both senators argued it hurts WAPA employee feelings and lowers morale to work side by side with stateside linemen who are billing much more.
Hansen joined in even louder. But it is Hansen who spent decades campaigning on, proposing legislation and even filing lawsuits to starve WAPA of funding. And only Hansen pretended Hedrington disdained the employees.
Was Hedrington insulting the employees? No, of course not. He said WAPA does not have the resources to do as much training as they would like.
"I would be the first to commend the WAPA employees for the work they did,. You are asking me about training. It is no fault of the employees," Hedrington said. He went on to say WAPA workers often do not specialize but have to learn to do everything, while on the job, and work hard and do a tremendous job with the tools they are given.
As much as some V.I. citizens and elected officials like to pretend otherwise, WAPA is owned by the people of the Virgin Islands. It is not some distant colonialist multinational corporation. There is a Crucian expression Hansen probably knows: "with sweet meat come sour sauce." It means you have to pay the piper. The bills come due. Offering free money to everyone is sweet meat indeed. But if you rob Peter to pay Paul, you can't then clutch your hair and beat your breast about how unfair it is that Peter is poor.
Hansen has loudly, proudly, frequently proclaimed herself the champion of the people for fighting to starve WAPA of funding by keeping rates down and preventing WAPA from charging fees to customers.
Every dollar of every WAPA line worker's pay comes entirely and only from those same ratepayers. If you (Hansen) starve WAPA of money in the name of the people, you (Hansen) are the reason it does not have resources to train workers.
Way back in 2001, Hansen sponsored legislation to just make WAPA magically absorb the cost of street lights and "recreational" lighting at public sports facilities. Other senators removed the recreational lighting. WAPA asked to be allowed to put a fee on customers' bills. Hansen nixed that idea, preferring an annual government appropriation. When WAPA's head questioned if the government will pay on time, Hansen said he "needs to have more confidence in the V.I. government."
(See "WAPA STILL IN THE DARK ON STREET-LIGHT FUNDING" in Related Links, below.)
Since then, the government has routinely been millions of dollars behind on WAPA bills and right now owes $8.6 million just for street lights. In all, right now the V.I. government owes more than $35 million in past due utility bills and is in the midst of a major financial crisis and a current-year budget shortfall of $453 million. But maybe WAPA just needs to have more confidence.
In 2002, Hansen pressured the Public Services Commission to penalize WAPA and get rid of a surcharge on bills, even though WAPA officials said losing the funding would push the utility into default on its bonds.
In 2010, Hansen's entire campaign was based on a promise to stop allowing WAPA to charge customers for the fuel it used. Instead, WAPA was just supposed to magically come up with the money from thin air. But again, every dime WAPA has comes from the ratepayers. There is no magic unicorn or leprechaun with a pot of gold. There are only the ratepayers. If linemen are to be paid more, ratepayers will pay it.
In 2011, Hansen actually sued WAPA to oppose WAPA's request to continue a surcharge to pay for fuel. Of course, WAPA would still have to pay for fuel, so had she succeeded, the territory would have gone dark, as no one was going to give the fuel for free and without fuel the generators would not work. That lawsuit failed.
Also in 2011, Hansen sponsored legislation to reduce the amount WAPA can charge for reconnecting power, once again posturing as the virtuous defender of the ratepayer – by starving WAPA of revenue for expenses like increased pay for linemen.
Hansen is not the only V.I. senator ever to be prone to magical thinking about money. But she is the worst. She even played a crucial role in preventing reforms at Gov. Juan F. Luis Hospital on St. Croix, helping to bring it to the brink of collapse in 2014.
JFL officials raised the alarm for years, pleading for more funding. It hired a "turnaround expert" expressly to make painful reforms. Hansen attacked all the changes and just pretended there was plenty of money. She accused the JFL head of "spreading doomsday predictions about the hospital's finances," and said "JFL's financial statements show otherwise." She helped to force the reformer out, joining other senators in a push to directly involve the Legislature in the internal management of the hospital. (See: Hansen, Griffith to Blame for the JFL Decertification) But in reality, the hospital was strapped and has been fiscally insolvent for years. The storms did not help and today it is just barely holding on amid major cuts to services.
Which brings us back to WAPA: JFL has not paid a utility bill in many years. The Legislature periodically made special appropriations to pay part of that past-due balance. But JFL owes WAPA more than $10 million right now and the government is strapped. Magically pretending away JFL's fiscal plight to help her posture as the defender of JFL's employees hurt JFL, hurt WAPA, hurt WAPA's employees and ultimately hurt the territory.
Being a pretend champion of the working man may be sweet meat, but the sour sauce always comes.